Top Popular Swimming Pools in Xian
Swimming is the favorite exercise for many people. It is even part of their life in summer days. Due to the inland location and traditional living habit, swimming is not a common exercise in this city and it is not so easy to find the swimming pool info. So people from seaside will miss swimming very much during their stay in Xian. To make their Xian stay more comfortable, China Xian tour selected some natatorium information. They are public swimming pools with good condition, good location, and affordable price.
Qujiang International Hotel
Address: No 46 Xiying Road. 150 meter east to Exit D Beichitou Station of Metro L3
The natatorium is of good sanitary condition and water quality here is nice. The water is relatively shallow with the maximum depth 1.2 meters. So many people go their with children. There are three swimming courses and people could take shower and sauna for free. The pity is that the pool is not so big. While the glass roof make the natatorium special.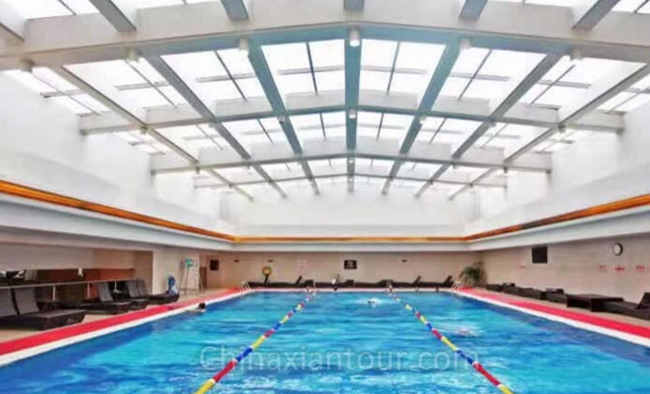 You'erpu Outdoor Swimming Pool 
Address: No. 2 East Gate of Shaanxi Athletic Coach Center, East Zhangba Road
Cost: CNY 30 per person
The swimming pool can have 200-300 people. And the water quality is very good. The swimming pool is divided into adults swimming area and children swimming area. Depth for adults area is 1.5 meters and children area is only 30cm deep.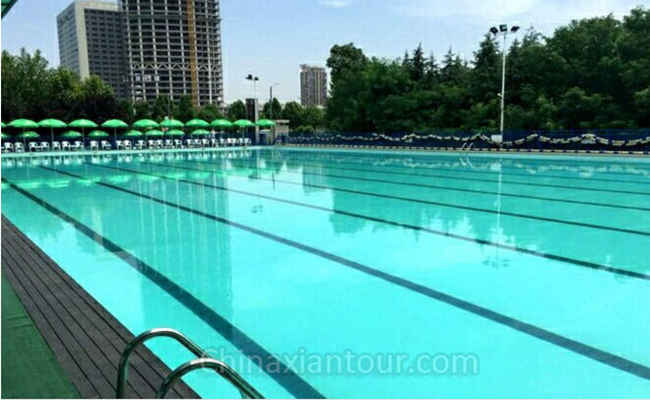 Xian Guangcheng Hotel
Address: 5th Floor, Guangcheng Hotel, South Landong Road
Cost: CNY75 per person
Swimming pool here is in round shape and water is very clear, so please do not worry about the water quality here. Temperature of water here is well controlled and on bank of the pool there are water fountains, chaise longue, and sofas. In the dressing room there are sauna rooms open for free.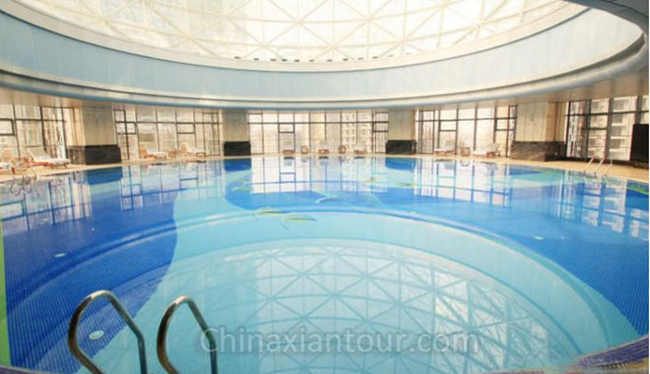 Jindu Natatorium 
Address: 2nd Floor, Jindu Huayuan, Tangyan Road
Cost: CNY35 per person
It is the facility of the living community and its also open to public. On working days (Monday – Friday) there are very few people. So if you go there on a working day you may have chance to enjoy the "VIP" service because there is maybe only you in the natatorium.
Kaiyuan Mingdu Hotel 
Address: 5th Floor, Tibet Mansion, Lijiacun, Youyi East Road
Cost: CNY108 per person for swimming and body building
The natatorium is in a 5 star hotel so the environment here is better than other swimming natatoriums we recommend. The decoration is of higher level and the recirculated water is much clear. After swimming people could do some body building. Fitness appliance here are also professional. Generally speaking the environment and facility here are among the best ones in Xian.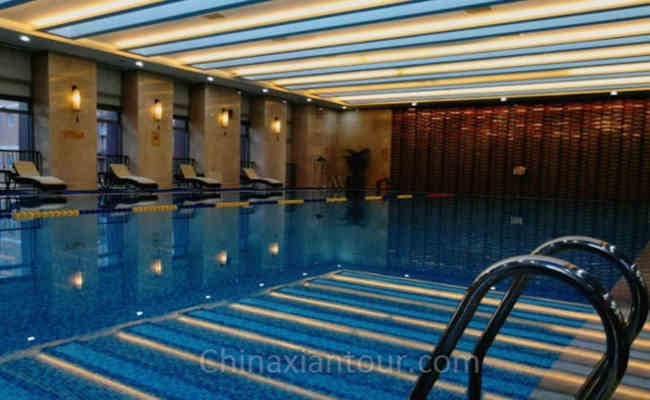 Sheraton Xian North City Hotel
Location: No 32 West Weiyang Road (Exit B, Longshouyuan Station of Metro L2)
Cost: CNY138 for 2 people
The best natatorium in northern Xian city. The swimming pool is not big but the water quality is beyond any doubt. The dressing room are well equipped. And the independent showering rooms with basic toilette open for free. If you are a green hand, coaches here could give you some professional direction.
Boyue Body Building Club
Address: East Gate of Qujiang Liuhao Living Community, South Big Wild Goose Pagoda Square
Cost: CNY58 per person
This natatorium is thought with high performance-price ratio due to the affordable price, clear swimming water, and the nice spatial planning. The swimming pool has 5 swimming courses, 2 bigger swimming area, and several shallower swimming area for children. Going there before 16:00 you could spend some leisurely time here.