What You Can Do for A 3D2N Xian Tour
If some one ask me: What things could I do in Xian to make the ancient city tour more memorable? My answer will be like this:
Climbing the Bell Tower and Drum Tower in the evening to overlook night view of city center and recall the vicissitudes of the city's destiny;
Satisfying your taste buds in Muslim Quarter to feel attraction of Muslim food and local snacks;
Riding a bike on 600 years' old City Wall to cover the ancient military construction with modern vehicle; Seeing Performance of Dreaming Back to Chang'an to appreciate visual impact by the national present offered to international VIP visitors.
Waling around the Big Wild Goose Pagoda to appreciate the great work left by the Buddhism in the Grand Tang and review the hardships of Master Xuanzang's Buddhist journey to ancient India;
Wondering in Xian Museum and visiting Small Wild Goose Pagoda, the sister-pagoda of Big Wild Goose Pagoda. And seeing delicate cultural relics in Shaanxi Museum;
Exploring the secret left from 2000 years ago in Terracotta Warriors and Horses Museum; Buying some postcards and send them to your friend;
Find a local tavern you like to try some local drinks and try to know some new friends …
Now our recommended itinerary of 3D2N Xian Tour is coming!
Day 1 
Muslim Street
Muslim Quarter is the best place to do a Xian local food tour. The both sides of the street are crowded with various shops. The walnuts and dates are sold on street sides, and the preserved fruits will make you can not help but stop to try. Grills are set in front of toast mutton shops and beside the grills are the fresh uncooked mutton. The well roast mutton curbs on willow sticks make your mouth watering. The mutton soup restaurant treats passengers with decent flavor of mutton soup and in front of the restaurant there usually is Xinjiang style crusty pancake. The cold noodles stall owner is stirring the cold noodles in a bowl and the fragrance of pepper oil and other fixing will awake your stomach. And the barley-sugar maker will treat you with both delicious sugar and interesting "performance".
Dongnanya Sticky Rice Cake (Dongnanya Zenggao)  is a kind of dessert made of sticky rice. Some people think it likes the steamed glutinous rice cake with date and logan fillings. Having a bite your mouth will be filled with faint scent of sticky rice, date, and honey.  Jiasuan Juiced Buns (Jiasan Gauntang Bao) is a highlight of our Muslim Quarter Food Tour. I bought the buns with vegetable fillings and my friends ordered the meet-fillings ones. The juice inside the buns will gush out once you nip. Plus the tasty meet and chewy bun skin. It is definitely an excellent food to try. All the buns in here are hand-made. After your order the staff start buns making and steaming. There are just a few customers so I waited for about 20 minutes for the buns.
Spicy Soup With Beef Balls (Rouwan Hulatang) is well known and popular among local people. In the thick starch soup there are many beef balls. While the dense pepper smell and red pepper oil can be unsatisfying challenge to some people.
Huanainai Plum Juice (Huanainai Suanmeitang) is the best local juice in summer. In winter days people may like warm fermented glutinous rice soup more.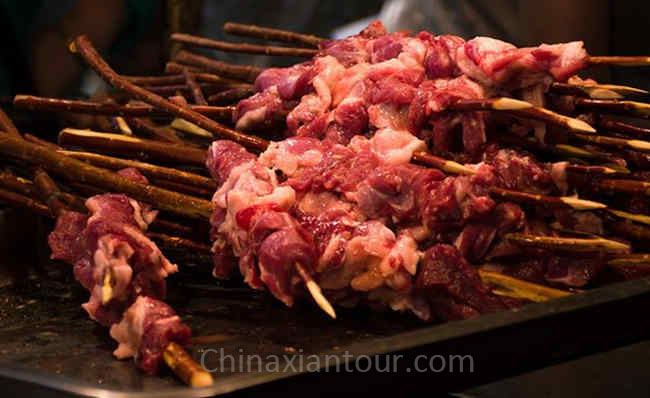 Toast Mutton on Willow Stick is the top thing one must try. Cutting off the muttons, then string the mouton curbs on willow sticks, and finally  toasting the muttons with cumin and red pepper flour. We saw the whole toast mutton making process and then collected our cate! Having the first bite and I was in melting mood! In Muslim Street there are lots of toast mutton stalls. Personally I think no need to consider which stall offer the best toast mutton. Because they are all so delicious!
Cold Glutinous Rice Cake with Honey (Fengmi Liang Zongzi) can be thought as another version of Sticky Rice Cake. It is good to try in summer half year.
Shaan Shisan Ice Cream (Shaan Shisan Bingqilin) hides in Muslim Quarter at an alley entrance. It is a three layer building and on the ancient style tablet is the shop name: Shaanxi Shisan. Shisan (Thirteen in Englsih) means the capital of 13 dynasties. Ice cream in this shop is unique because you will meet many fresh and delicious local fruits and ingredients: grapes and tomatoes from Huxian County, Walnut-meet from Huanglong County, dates from Jiaxian County, cherry from Bailuyuan, chestnuts from Zhen'en … No matter what flavor you order, you will be deeply impressed by it. Besides the ice cream, the decoration of the shop is full of ancient taste. And the local specialties are also available if you want to buy some for your family and friends.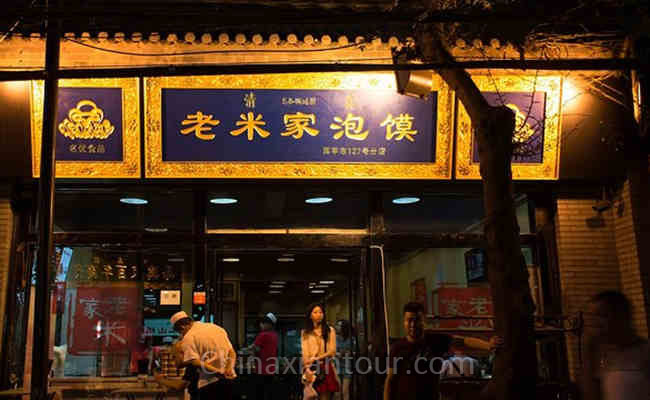 Laomijia Pita Bread Soaked in Lamb Soup (Laomijia Yangroupaomo). Breaking Pita Bread on your own is quite interesting. Most experienced eaters break bread on their own instead of asking the restaurant use the machine-break breads. The bread fragment should be big as finger nails. It will take 20-30 minutes to break pita bread. And cooking will cost about 20 minutes. Finally the Pita Bread Soaked in Lamb Soup will be offered with a little dish of chili sauce and several preserved sweet and sour garlic. Then you can start! Pita Bread Soaked in Lamb Soup is a symbol of slow life among many people.
Other snacks and food wothry of trying: crusty pancake, chili sauce, cold noodles…
Bell Tower and Drum Tower
Bell Tower in Xian was built in the Ming Dynasty and it locates at very center of the city – the joint point of the four main streets. At beginning, Bell Tower was built at entrance of today's Guangji Street, which stood opposite to Drum Tower. Later was move to nowadays place due to an earthquake in the year 1582. There are two best place to take some good photo of Bell Tower: Building top of Bell Tower Hotel and the shopping mall opposite to Bell Tower. If you want to include the busy traffic around Bell Tower, Bell Tower Hotel is best. And if you want to include Bell Tower and Drum Tower in one picture, the shopping mall is best.
Bell Tower stands in the front of Muslim Quarter. And it is 200 meters from Bell Tower. In the evening the square around Drum Tower will become stage of square dancers. Several square dance teams appear on their own "domain" and young free singers will appear with their guitars. Some passengers may stop to listen to them or enjoy dance of square dancers.
Day 2 
Bell Tower
To catch the whole process of sunrise, please get up at 04:00-04:30. From purple to yellow and finally to bright, the Bell Tower is the perfection of beauty.
Bar Street
Today you could pay a visit City Wall and ride bike on it. If checking the map you will find City Wall is only 3km from Bell Tower. So you can go there on foot. On the way to City Wall you will passed Xiangzimiao Street. So surprise that in the ancient Chinese style street there are lots of bars. After the binge through out the night, Xiangzimiao Street falles into calm now. The colorful wine bottles, wooden desk and chairs, and the alcohol in the air make the street more attractive. That street is also a good place to take some "handsome" or "lovely" pictures.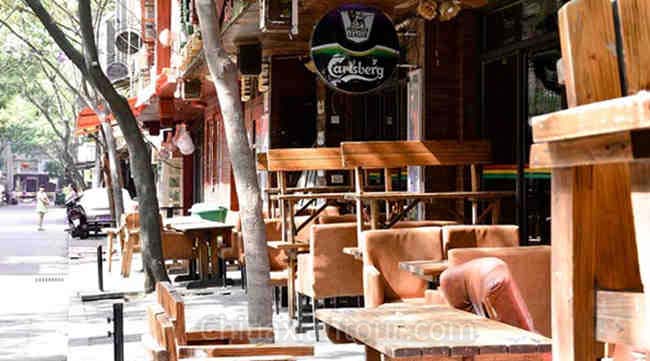 Xiangzimiao Taoist Temple
Walking to the end of the bar street you will meet Xiangzimiao Taoist Temple. The temple was built in the Song Dynasty and its peak time was the Ming and the Qing Dynasty. It is said to be the former residence of Xiangzi Han, one of the Eight Taoist Immortals. Groups of worshippers come here for prayer.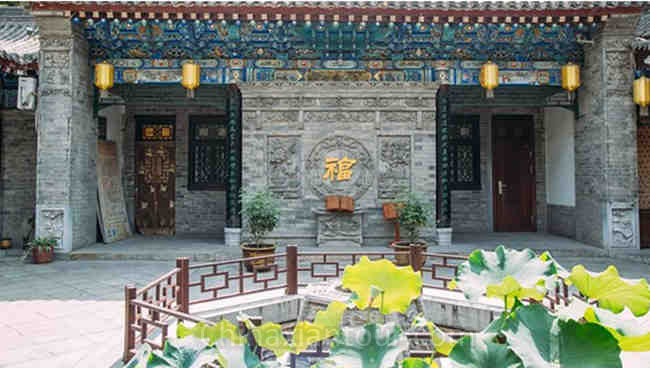 Xian City Wall
Walking out of the Xiangzimiao Street we walk about 300 meters and arrive South Gate of City Wall. After buying tickets we enter the scenic area. The City Wall has four main gates: Changle Gate (East Gate), Yongning Gate (South Gate), Anding Gate (West Gate), Anyuan Gate (North Gate). These four gates are the original gates of the City Wall. South Gate is the most beautiful and prosperous gate of City Wall.
The entrance fee of City Wall is CNY54. Among Chinese scenic sites entrance fee City Wall is reasonable. And there is no limited visit hours on City Wall. So you are advised to buy some food for lunch when visiting. And different from other scenic areas, there is no much shops and food stands on City Wall.
We advise you climb the City Wall in the late afternoon. In summer days the sunlight in evening will be less fierce and more important is that you can see Welcoming ceremony performed at South Gate. The large scale and dreamful lighting effect are quite shocking. If one wants to see inside the performing area, it costs CNY258 per person. While if watching on City Wall in distance it will be free.
Riding bike on City Wall at noon time is really a bad experience. The burning sun will make your arms peel!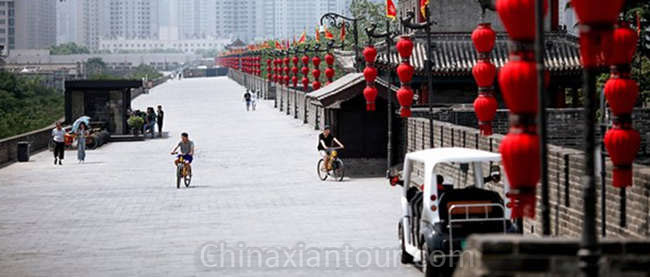 Day 3
Terracotta Warriors and Horses
A Terracotta Warriors and Horses Tour is the most important in our itinerary. It is the 3rd day and the last day in Xian. We had expected today for long time because today is for Terracotta Warriors and Horses Museum. While we also refuse the coming to today because we need to go home in the afternoon.  Since I read articles about Terracotta Warriors and Horses in primary school, it attracts me like a lodestone attracts iron. After entering Terracotta Museum, you will be excited and dazzled because the museum is so big and miraculous. Hiring a van to Terracotta Warriors and Horses is an ideal transportation. It cost 1 hours from city area to the museum. Some people choose to take bus to there. On East Square of Xian Train station there are many buses to Terracotta Warriors: Bus 306, 307, etc. Every 5-10 minutes a bus departs.
Terracotta Warriors and Horses Museum opens 365 days every year and it doesn't close on holiday days. From March 1st to Nov 30th ticket issuing time is 08:30-17:30 and the entrance fee is CNY150 per person. From Nov 15th to end Feb ticket issuing time is 08:30-17:00 and the ticket is CNY120 per person.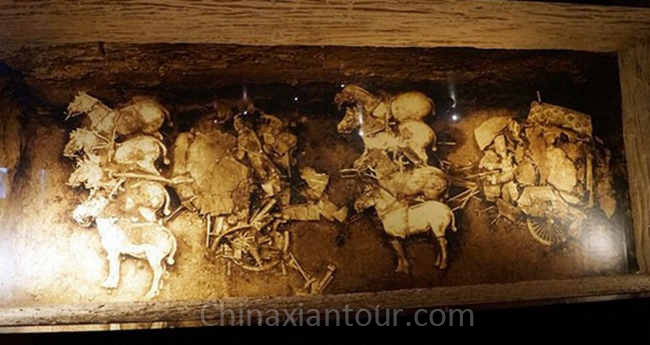 First please buy tickets at tickets office, then we hire a scenic guide and start visiting. We are indeed shocked by the figures. CNY150 is acceptable to us because compared with international visitors we cost much less on transportation. When I saw many foreigners in Xian on day 1, I did not why there are so many international friends. Now  I have the answer. They come to Xian for Terracotta Warriors! Over 1/3 of visitors in the museum are foreigners.
Pit one is the largest pit of the Museum. The museum was built on the excavating sites. There you could see various Terracotta soldiers: the complete ones, the "disabled" ones… Each terracotta soldiers have different appearance and hairstyle. But they have one common character: single-edge eyelid. Archaeologists assume these terracotta soldiers have single-edged eyelid because Emperor has single-edged eyelid.
When the bronze Chariot found in 1980, the two wooden chariot sets were decayed while the bronze horses were well preserved. Above is the picture when the chariots were excavated.
In 1974 when the excavation work just started, excavating tools were much out of date. Archeologist can only explore that world wonder with these simple tools. The newly excavated terracotta solders bears different colors. But the colors disappeared soon due to oxidize. Archeologists believe there are still many colored terracotta soldiers in underground. To better protect them, they are not excavated yet.
Finally the 3 days Xian tour ends here. Whish you a good stay in Xian!