The sweet and thick rice-wine in Xi'an, also known as yellow cassia wine, is one of the famous beverages of the region. It does not look clear as the papular white liquor but rather resembles the soya bean milk with a little stickiness. It was known as the "Jade Juice" in ancient limes but is now commonly known as "sweet and thick wine" or "sweet rice-wine" in Xi'an. It is good for stopping cough and doing well to lungs, activating stomach function and invigorating blood circulation, therefore stimulating appetite and increasing body-heat. It is not only a kind of beverage in your daily life but also a good match for the rinse liquor of "Maotai" and "Xifeng" at a pompous banquet and i8 popularly welcorned by the broad masses of people.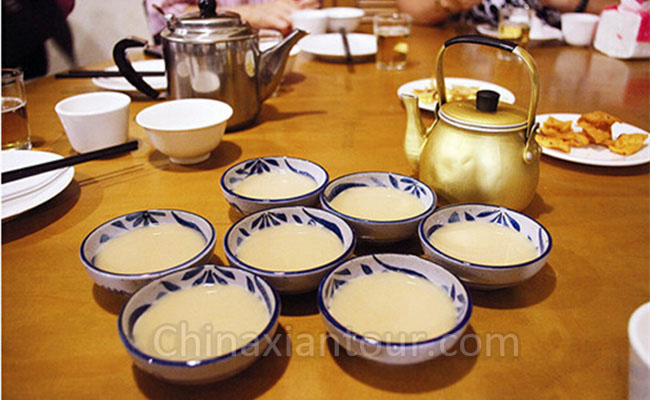 Sweet and Thick Rice-wine
The sweet and sticky wine requires a meticulous way and careful tending in the process of brewing. You've first to wash the glutinous rice clean and soak it in a bucket for aver 4 hours, and then get it out to be steamed over a blazing tire for some 15 minutes till the rice be- comet 80% cooked. Then off with it, pour the cooled water over it and let dry up a little to mix the yeast evenly into the rice. Get it seal up in a vat for brewing with the temperature being kept at about 30 degrees centigrade for a three-day fermentation and the sweet and sticky wine is well done. When you like to ha,e it just get a suitable amount from the vat and pour in some cooled water and churn it and then filter the fluid out to be boiled. Afterwards just add in some sugar or yellow cassia for drink.