Xian, the home to world-renowned Terracotta Warriors, boasts its long history and a special culture that is passed down for thousands of years. In addition, Xian is also the starting place of the ancient Silk Road, hence the historic sites and regional characteristics are featured distinctly here. What is more exhilarating is, if traveling to Xian, that visitors have many options to go for sightseeing with free of charge. Here is the info about some sought-after free attractions.
Shaanxi History Museum
The Shaanxi History Museum is known as "the treasure house of China" and "the magnificent hall of Chinese civilization". There are numerous collections and treasures in the museum, which measures an area of 65,000 square meters. The cultural relics are not only abundant in quantity and variety, but also of high grade and  much value. For example, the Shang and Zhou dynasties bronzes are exquisite and peerless. Tang dynasty tomb wall painting is unrivaled.
Location: No. 91, Xiaozhai East Road, Yanta district (northwest of Dayan Pagoda).
Opening hours: Close on each Monday.
09:00 – 17:30 (November 15th to March 15th; tickets distributes before 16:00);
08:30 – 18:00 (March 16th to November 14th; tickets distributes before 16:30).
Recommended visiting time: 2 hours
Traffic: The nearby bus station is Cuihua Lu (Cuihua Road).
North Square of Big Wild Goose Pagoda
There's a large plaza located at the foot of the Big Wild Goose Pagoda, a world-famous Buddhist holy land. The plaza is the largest Tang-themed cultural square in Asia and has become a cultural tourist attraction for not only local people to enjoy gathering, sightseeing and leisure but also travelers to feel the city in-depth. Music Fountain is one of the biggest highlights here, as the largest fountain square in Asia, even in the world. It's a good place for a Xian night tour.
Location: No. 3 Furong East Road, Yanta district
Opening hours of music fountain:
5 performances every Monday, Wednesday, Thursday and Friday at 12:00, 15:00, 18:00, 20:00, 22:00;
6 performances on Saturday, Sunday and national holidays at 12:00, 14:00, 16:00, 18:00, 20:00, 22:00;
3 performances on Tuesday at 18:00, 20:00, 22:00. The performance lasts 20 mins.
Traffic: Get off the subway line 4 at Dayanta Station.
Xian Museum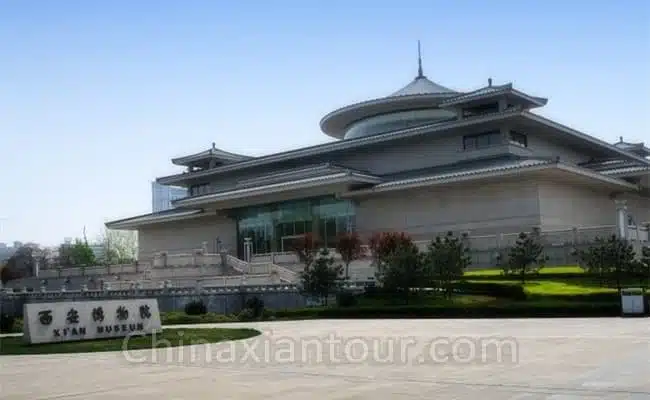 It integrates museums, historical sites and urban gardens, which are famous for the precious cultural relics, the Tang millennium ancient pagoda, the graceful Yanta morning bell, and the beautiful landscape of the garden. The museum also has a large collection of cultural relics from various times in Xian, some of which were unearthed in Zhou, Qin, Han, Tang and other important dynasties in Chinese history. What is particularly displayed here is the "city model" of Xian from Zhou to Ming and Qing dynasties, which clearly shows the size of the capitals, layout and living conditions at that time.
Location: No. 72 Youyi West Road, Beilin district
Opening hours: Close on Each Tuesday and the day of New Year Eve
Tickets distributing: 9:00-17:00 (March 15th to October 31st); 9:00-16:30 (November 1st to March 14th)
Traffic: The nearby bus station is Xiaoyanta (Small Wild Goose Pagoda).
Muslim Quarter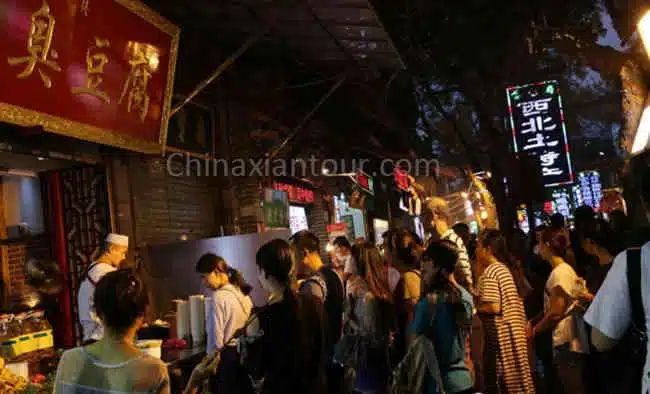 Muslim Quarter locates in the center of Xian, where Muslim people gather in the area of several streets collectively. It is the place where Xian snacks are most concentrated, and the place that can't be missed. Muslim Street has already a thousand years of history, which is a popular hangout for not only visitors but also local Xian people. Strolling along the streets, you can feel strong enthusiasm for life.
Location: No. 1 West Street, Lianhu district
Opening hours: Open all year round.
Traffic: The nearby bus and subway station is Zhonglou Station(the Bell Tower).
Dapiyuan Mosque
The mosque locates in Dapiyuan Street in Muslim Quarter, which was built in the Ming dynasty(1411). Although the yard is not big, the environment is simple and elegant. The towering trees, flowers and other plants around the temple make it clean and tranquil. The temple also functions as a holy place for local Muslim people engaging in religious activities.
Location: No. 108 Dapiyuan Street, Lianhu district