Wide & Narrow Alley, located at the Changshun Street, is composed by wide alley, narrow alley and well alley, all of them are blue-bricks courtyards in an ancient style. There exist large scale antique lanes and alleys of the Qing dynasty. Thus, it enjoys the great reputation as one of the "three historic district of famous and cultural city".
Nowadays, people here can not only have a tea, see a Sichuan opera or chat with friends in the exquisite classical buildings to experience the slow life of Chengdu, but also experience the diversified and fashionable lifestyle of modern Chengdu.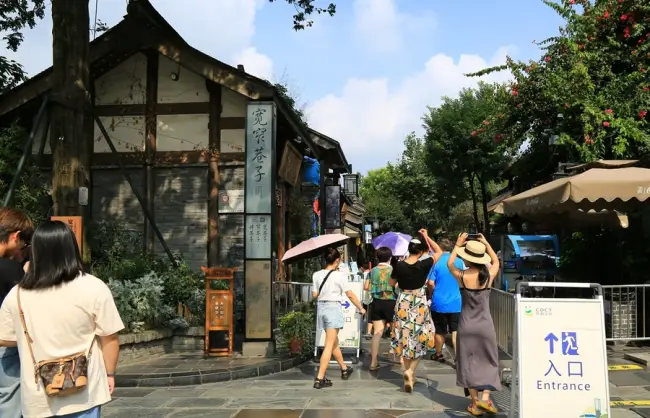 Basic Facts about the Wide & Narrow Alley:
In 1718, during the period of the emperor Kangxi of the Qing dynasty, the emperorappointed more than 1,000 troops to stay in Chengdu to build the Man city after successfully suppressing the Dzungaria insurrection. The wide and narrow alleys today are the remnants of the Man city. There were more than 70 courtyards and more than 300 rooms in ancient time, but now the old city wall, Jinshui river and other buildings have gone with the wind. So, the current wide and narrow alley is the last remnant of the old city, as well as the only partincluding the northern hutong culture and architectural style in the south China. It records the vicissitudes of old Chengdu and its architectural style combines the characteristics of western Sichuan folk houses and northern courtyard houses.
The wide narrow alley is composed by wide alley, narrow alley and well alley. Wide alley is a nostalgic area with ancient buildings, which was called Xingren hutong in Qing dynasty. There are many buildings in the late Qing dynasty style in the alley, andthere are also some western style buildings left by the church. Wide alley is the "leisure life" area, and it is the reproduction of old Chengdu life. There are old Chengdu life experience museum, where people can experience and know the local customs of old Chengdu.
Narrow alley, is a "slow life" areashowingthe courtyard culture of old And the most of courtyards here are equipped with stylish bars and restaurants, where people have a relaxing afternoon tea or chat with friends. Narrow alley is a modern area integrating various western-style food, coffee, art, and leisure, which is really popular among people who like the slow life.
Well alley is adjacent to the south of narrow alley. It was named Ruyi hutongin the Qing dynasty, and it was renamed as"well alley" after the revolution of 1911. "Well alley" was named after an ancient well dug during the reign of emperor Kangxi in the Qing dynasty. There exists a photo wall which to show the civil culture of old Chengdu through old  Well alley is positioned as the "new life" area of Chengdu. It is the most open, diverse and dynamic consumption area in wide and narrow alley. Well alley is a dynamic entertainment area equipped with bars, nightclubs, dessert shops, fast food, wedding venues and creative fashion shop, and it is really popular with the young people.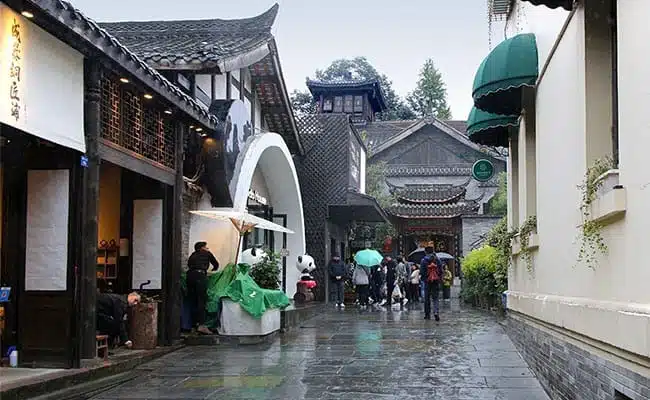 How to Buy Entrance Tickets:
Price of Entrance Tickets: Free
Opening time: 05:00-23:00
When is the best time to visit?
Nowadays, with the advantageous location and profound history, Wide Narrow Alley has become a must-visit place in Chengdu, where visitors can not only appreciate the ancient architecture and history but also taste authentic Sichuan Cuisine and buy some interesting souvenir. Thus, it is suitable for visiting at any time.
Tips: Visitors had better avoid the official holiday in China, because many Chinese citizens choose to travel on official holidays to ease the pressure of their work. As a result, many Chinese tourist attractions are overcrowded and traffic jams are common. Therefore, visiting China at this time will bring tourists a less pleasant travel experience.
Official Holidays in China
| | |
| --- | --- |
| Chinese New Year | Around January or February |
| Winter vacation | January-February |
| Labor Day | May1st -3rd |
| Summer vacation(for students) | July-August31st |
| Mid-Autumn Festival | Around mid-September |
| National Day | October 1st-7th |
How to get to the Wide & Narrow Alley?
Bus
It is convenient for visitors to take Bus No.5, 13, 43, 47, 58, 64, 78, 81 or 163 and get off at Jinhe Lu(Jinhe Road) Station.
Visitors canalso take Bus No.62, 70, 93, 163 or 340 and get off at Changshun Jie Station.
Subway
Visitors can take Subway Line 2 and get off at the Renmin Gongyuan(People's Park) Station, then walk to the Wide&Narrow Alley.
Visitors can also take Subway Line 4 and get off at the Kuanzhai Xiangzi (Wide&Narrow Alley) Station.