Can You Buy a Terracotta Warrior?
Can I Buy A Real Terracotta Warrior?
Many tourist would ask this question. No any person or country can buy a authentic Terracotta Warrior, but they can buy as many Terracotta Warriors statues replicas for sale as they want. The Terracotta Warrior figures can be found in many tourist souvenir shops in Xian. The terracotta warriors copies vary from 5cm to the same size as real Terracotta Warriors. And the price vary from CNY5 to thousands of yuan per figure.
Terracotta Army accidentally discovered by several farmers in 1974 in Lintong District of Xian, China, is the most famous tourist attraction in Xian. No doubt it is a must-see for one's tour to Xian. It is what makes Xian known to the whole world. Over 2,200 years ago, these life-size clay warriors and horses were buried under the ground to protect the first Emperor of China Qin Shi Huang in his afterlife, who not only unified the country but also unified Chinese characters, currency, and weights and measures. It's hard to imagine how many human and material resources were pooled to make this happen and how the ancient craftsmen made the thousands of warriors with different facial expressions, hairstyles and looks. Visitors just stand in awe of its sheer scale and the fascinating history behind this huge underground empire. After your Terracotta Warriors tour is finished, in addition to your memory of seeing the warriors which will blur gradually as time goes on, what can remind you of the awesome experience? The terracotta warrior itself.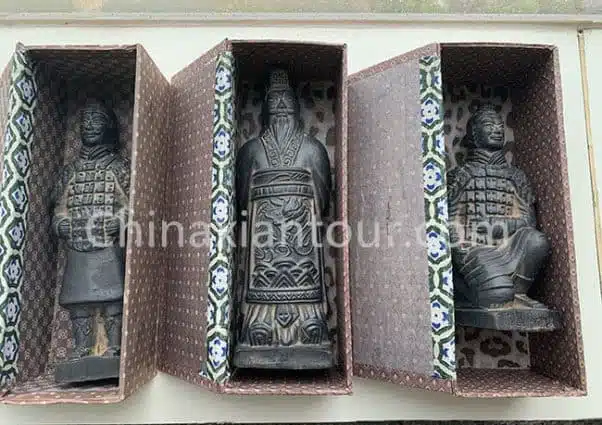 How and Where Can I Buy A Terracotta Warrior?
China Xian Tour, a trusted Xian tours and China tours supplier with 20 years' history, also deals the replicas of the famed terracotta warriors. We are Xian local operator with the first-hand resource of the terracotta warriors replicas, we guarantee the quality 100% with afforable price and provide life-time after-sale service.
We can help you get warriors from full size just as the ones you see in the terracotta warriors museum's pits for you to place in your house, office, garden and any other places you like, to easy-to-carry statuettes which are ideal gifts for families and friends and will also be great decorations for your desk and bookshelf. Most importantly, we promise our replicas are of the highest quality, exquisite workmanship and best price. Our craftsmen have taken a lot of time studying the sizes, proportions, shapes, etc. of the terracotta warriors and horses to make the replicas look like the real ones. Each of them must undergo the process of coloring — corrosion — recoloring — re-corrosion so as to make them have not the slightest trace of "new" just like they travel through thousands of years. Having a close look at the replicas, you will know they really work hard and love what they do. The replicas will help develop a close contact between you and China and give your house unique oriental charm. And don't worry about how to take them back home with you. We can arrange international delivery for you.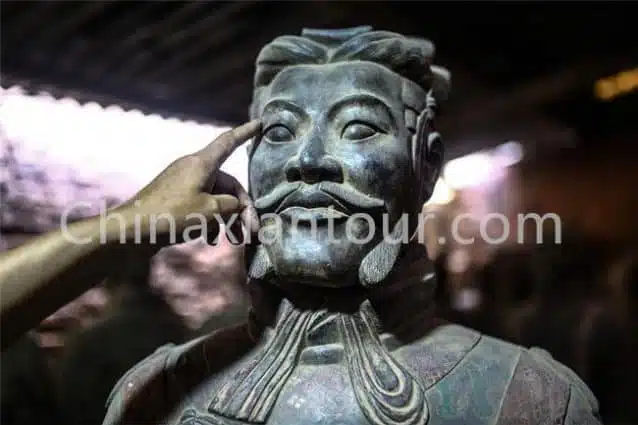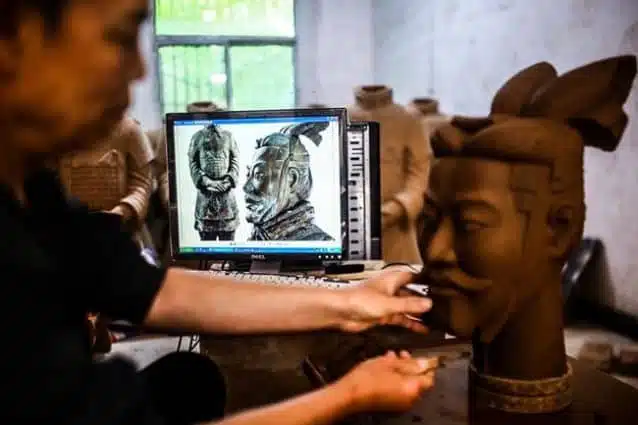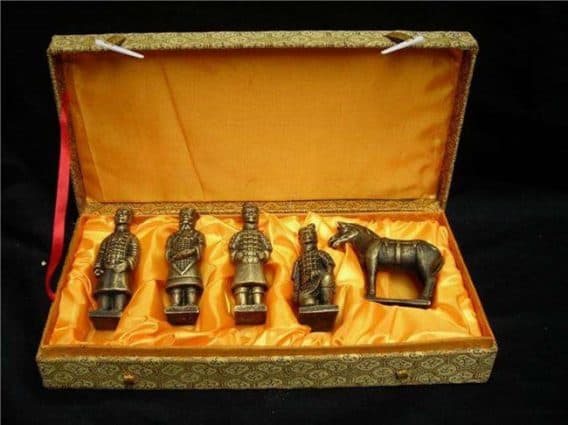 Terracotta Warriors Statue Replicas For Sale
Buy from Local Terracotta Warriors Factory Store
We also provide tailor service of the statues with support from an elite team of the local expert artisans boasting surpeb skills and rich experience in customizing different figures, animals and artworks. Don't hesitate to contact us at [email protected] if you are interested in it!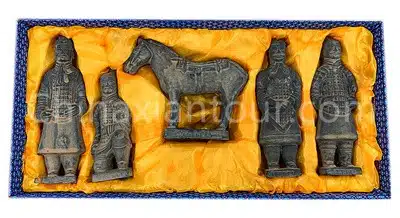 A Set of Terracotta Warriors
More than 8,000 terracotta warriors have been discovered in the pits so far, and they have been classified into several different groups. None of them are exactly the same as any of the others. They are absolutely stunning. If you want all of them but don't have the budget for the larger ones, this option will solve the problem for you. You can take 5 different figurines back home in one little box at a good price. They are perfect gifts from China. You can share your wonderful China traveling experience with your families and friends and surprise them with exquisite mini warriors. If you are struggling with what gifts you should buy, hope this can help spark some ideas.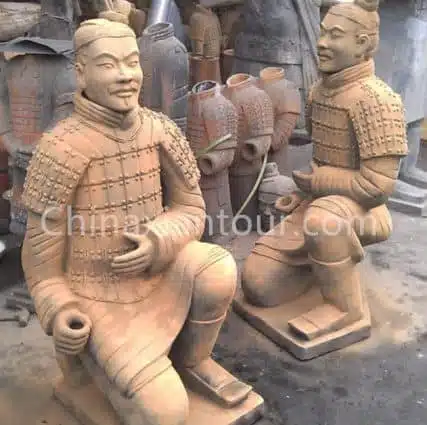 Kneeling Archer
Kneeling archers were unearthed in the east of Pit No. 2. They form the archer battle formation together with standing archers. Kneeling archers are placed in the center of the formation, surrounded by standing archers. Covered in armor and with their hair fixed in a bun, they place both hands on their waist and look straight ahead. The calm expressions on their faces tell that they are ready to shoot at the enemy any time. Although Qin Shi Huang's reign was short with only 12 years, the soldiers in his underground empire are still waiting for his orders.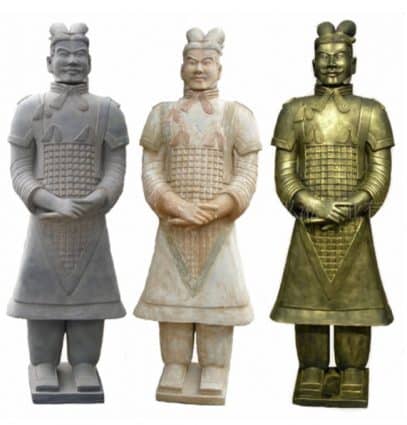 Standing General
At present, there are altogether 9 terracotta generals excavated from the pits, which makes the generals more valuable and especially eye-cYou can tell which one is a general just by looking at what they wear. The most prominent feature is the delicate decorations on their chests which indicate their high rank. Standing at the front of the formation with arms at his sides, the general gives his soldiers a determined look. It's like saying, "You all are heroes. We will win this!" However, Qin Shi Huang's warriors did not win in every battle. For example, the emperor once sent a young ambitious general Li Xin to conquer the Chu State, but the general underestimated the enemy and failed at a heavy cost. Finally, it was the veteran general Wang Jian that defeated the Chu army. What surprised the scholars was that all 9 of them were unearthed from Pit No. 1 and Pit No. 2, and not a single general was found in Pit No. 3 which is believed to be the headquarters of the underground army.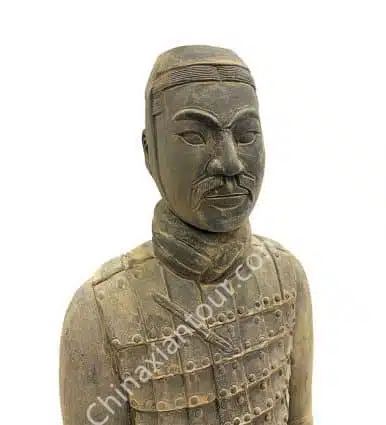 Cavalry Warrior
There is a cavalry warrior standing in front of each horse, holding the rein in one hand. Their armor (only to their waists) is slightly shorter than that of infantry warriors and they have no shoulder protector to make it easier for them to ride horses and use crossbows during battles. They also wear small cap which is fastened under their chins to prevent their hair flowing loose in the wind. From their special costume, we can clearly see that the ancient cavalrymen were required to act quickly. You will be surprised by the wisdom of Chinese people at that time and their extraordinary focus on detail.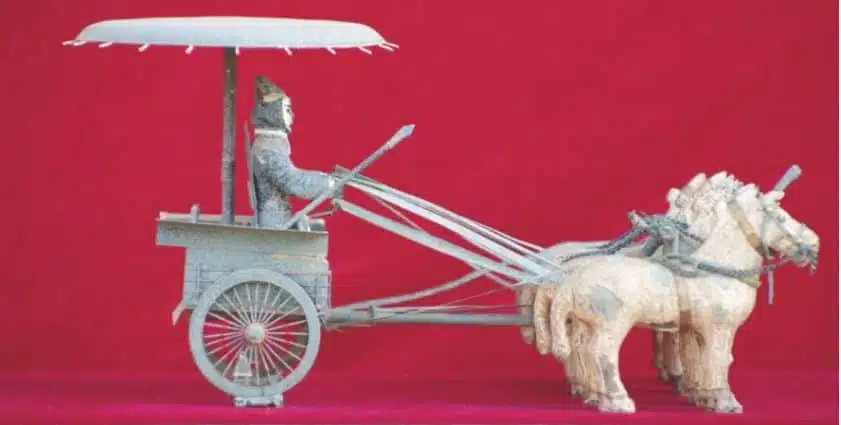 Chariot
Chariot One, 2.25 meters long, 1.52 meters high and with a weight of 1,061 kilograms, was broken into 1,360 pieces when first discovered in 1980. Now it has been well restored (it took the experts 8 years to restore Chariot One and Chariot Two). There is a canopy protruding from the carriage. It serves as an umbrella providing shelter from the sun and rain and also allows the rider to look at the four sides. It's truly a masterpiece of ancient art of bronze wares in China.
The above are only a few of the popular ones. If you are interested in buying our terracotta warrior replicas, purchasing Chinese traditional ceramic, lacquerware or other souvenirs from China, please do not hesitate to contact us at [email protected] for more details.
How Were the Terracotta Warriors Made?
Basic Steps of Terracotta Warriors Making
How Did the Ancient People Making It?
5 Steps to Make A Terracotta Warrior