The Hottest Museums in Xian, Do You Know Them?
Museum, the place collecting essence of human wisdom and witnessing the development of human history; Xian, an old city bears long history and deep culture, treats people with so many historical relics here. The Museums of Xian city, how many do you know and how many have you visited?
Museum of Terracotta Warriors 
As one of the eighth wonder of the world, the Museum of Terracotta Warriors hasthree pits in total and the first pit is the largest one and has most terracotta figurines to exhibit. Although seeing these warriors who crossed thousands of years itself, is an amazing thing, you are suggested to have a guide to explain you the related history and culture about it.As you know, the first sight of these ancient terracotta armies is definitely striking, but only seeing them with your eyes is boring and insufficient. You need the background information to understand why there is Terracotta Warriors, what is what used for. Then you will really understand the greatness of it.
All the terracotta figurines are colored painted when unearthed but faded later when they were exposed into the air. And each figurine has its own unique look which shocks the whole world greatly. Unfortunately, most of these figurines were broken when unearthed, what we see today actually are repaired by the experts, the craft is another surprise to people.
Shaanxi History Museum
Someone has ever said: if you want to know the modern of China, shanghai is the best choice; if you want to know contemporary of China, Beijing is your first option; if your interest is the history of China, Xian is your dreamland! Titled with "pearl of ancient city, treasury of China", Shaanxi History Museum intensively exhibits the deep history and culture! There are 18 national treasure relics.
Xian is known as the fourteen ancient capital of China—the objects in Shaanxi History Museum is barely likely for other Museums to compete. There are over 3000, pieces of relics exhibits here. The relics not only won their fame in quantity but also in quality. Despite the historical value, just put those in today's standards of beauty whether design or workmanship, poses fantastic impression for visitors. Maybe modern people with impetuous mentality hardly create these deliberate craft works.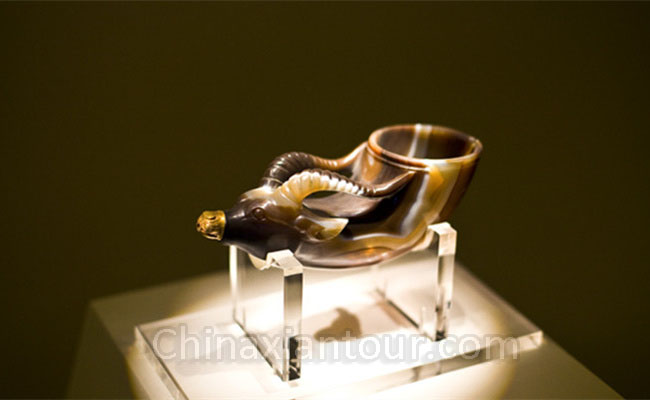 Forest of Stone Steles Museum
Forest of Stone Steles also has three parts and the largest one is the calligraphy stone steles. Another attractive one is the stone carving of prosperous time of Buddhism in Tang dynasty. People who know little about Chinese handwriting may feel it is boring and simple about these steles, but if you are interested about the Chinese traditional calligraphy and stone carving, you will never regret seeing it.
Banpo Museum
Come to Banpo Museum to cast a glimpse onto the first found maternal tribes in human history. Surprisingly, primitive men had mastered basic life skills.
They can build a warm and safe house for themselves with a conical proof to against rainwater; dig ditches for their tribes, it is hard to imagine that they could dig such deep ditches to prevent the attack of animals and invasion form other tribes. They even keep relatively mature burial system and caste system: the perished kids are buried into jars and put besides their mothers and adults also are buried with different funeral ways.
After the visit here, you must be surprised at the human wisdom which developed rapidly even 6000 years ago.
Xian Museum
Compared with Shaanxi History Museum, it needn't queue in Xian Museum which also is free. The buildings here are quite beautiful and look modern. The other advantage of this Museum is that it is close to Small Wild Goose Pagoda, so you can visit one after another.
Few people would come here because Shaanxi History Museum is so well know. Actually there are fantastic exhibition of Buddha figures, large amount, amazing shapes. if there is spare time, Xian Museum is a good choice.