Chinese Dumpling Banquet
Xian has a very long history. Archaeological discovery has shown that there was a matriarchal clan at the current Banpo Village Ruins in the Neolithic Age, about 6,000 years ago, and 13 dynasties established their capitals in Xian. They left a large number of cultural relics and historic sites attracting millions of travelers to Xian each year, such as Big Wild Goose Pagoda, Bell Tower, City Wall, Forest of Stone Steles, and of course the most important one, the over 2,200-year-old terracotta warriors and horses which alone brought Xian to the world stage. But don't forget Xian also has all kinds of delicious food. How many things can you make from simple flour? For Xian people, flour means endless possibility. Today we are going to introduce you Xian dumpling banquet which you should not miss during your Xian tours. Yes, you read that right, a banquet with dumplings of different fillings and made in different ways.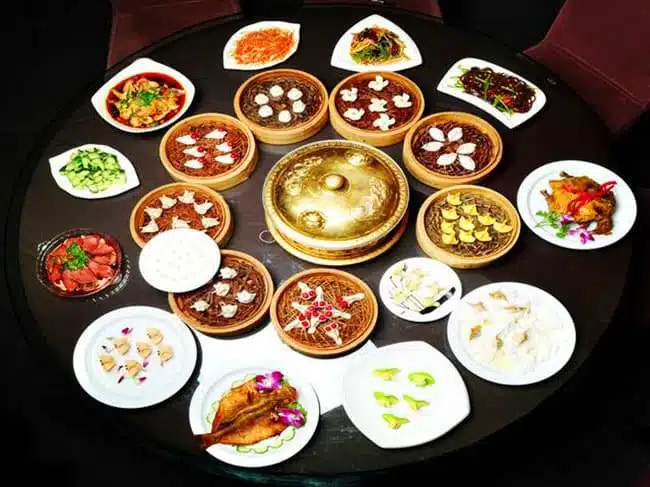 Dumpling, known as Jiaozi in Chinese, is a traditional Chinese dish with thousands of years of history. Chinese archaeologists found dumplings in bowls at the Tang Dynasty tombs in Turpan, Xinjiang, and they look just as the dumplings we have today. Dumpling symbolizes reunion and is indispensable for New Year's celebration especially in northern China. It's pretty sweet to make dumplings and chat with families around a table at the same time. We even put coins in dumplings. Whoever gets the ones with coins will have good luck in the coming year.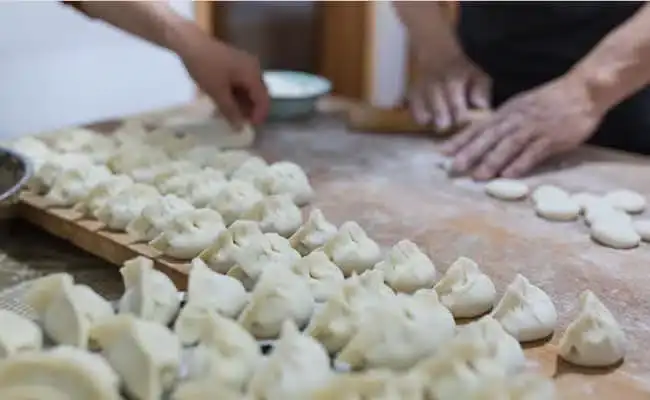 Although dumplings are tasty and meaningful, they basically look the same and have only a few flavors for many years. However, the dumpling restaurants in Xian made something different and created dumpling banquet. The dumplings of a famous Xian restaurant Defachang Dumpling House even won a place in the Guinness World Records.
The first to experiment on dumpling banquet is Xian Dumpling Banquet Restaurant (the former Jiefanglu Dumpling House). In 1984, it sent chefs to many large cities in the northern and southern parts of the country such as Beijing, Tianjin, Shanghai, Hangzhou, Shenyang, and Qingdao to study their dumpling styles as well as learning tastes and preferences of people in different areas. They also went to some counties in the province to see how normal people make dumplings and studied dumpling making process of the imperial courts in the Tang and Song dynasties. For instance, Yang Yuhuan, the favorite concubine of Emperor Xuanzong of the Tang Dynasty, wanted to eat something with filling one day and required that the food must be steamed. The clever cook knew she loved chicken wings, so he made steamed dumplings stuffed with chicken wings. Lady Yang was very pleased with the dumplings, so "Concubine Steamed Dumpling" was kept as a royal court dish till today. Another example is the Empress Dowager Cixi of the Qing Dynasty who fled to Xian when the Eight-Power Allied Forces invaded Beijing in 1900 and wanted to eat a kind of dumplings which had to be cooked in her presence. The chefs made small and exquisite dumplings with chicken breast and served the empress dowager in hot pot style. They just boiled the dumplings in chicken broth whenever she wanted. Thus, this kind of dumplings is called "Empress Dowager Hot Pot".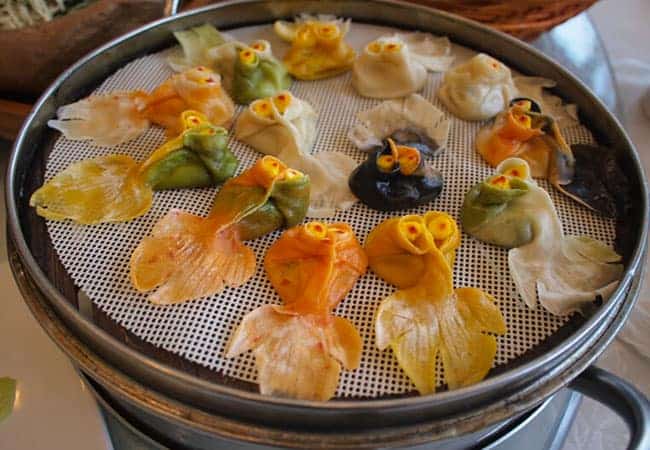 After repeated tests, the restaurant finally made it. The dumpling are tasty, aromatic, colorful, and pleasant to the eyes. And dumpling banquet is classified into several grades, each with different fillings, shapes, flavors, and prices.
Then you may want to know what's unique about Xian dumpling Banquet. The first big difference is that the dumplings have a wonderful variety of shapes you can see from the photos, such as garlic, lotus root, and cabbage. There are also many other shapes like goldfish, butterfly, conch and various flowers. The second characteristic is that many materials are used. In addition to the common vegetables and meat such as pork, chicken, duck, and fish, there are also other delicacies from land and sea like hericium erinaceus, sea cucumber, shark fin, and hair weeds. The third is that there are plenty of flavors to satisfy every palate such as spicy, fish flavor, five-spice flavor, salty, sweet, sour, and curry flavor, just like the saying "100 dumplings have 100 flavors". The fourth breakthrough is that the dumplings are cooked in a variety of ways. Chinese people usually steam or boil dumplings, and the fillings are sometimes uncooked. Now because the dumplings have different fillings, various cooking techniques are used like steaming, frying, quick-frying, braising and stuffing.
Dumpling is one of the most representative foods of Chinese dietary. In Xi'an Shaanxi, dumpling is popular among eaters of various ages and it develops into a famous local snack— Chinese Dumpling Banquet. It is a lordly feast composed by all kinds of dumplings with different colors and appearances as well as inside stuffs. Therefore it has won a name "Xi'an Dumpling Banquet". Today, the special feast keeps being one of necessary foods in traditional festivals, such as Spring Festivals and Lantern Festival.
Xi'an Dumpling Banquet is a feast created by Xi'an Dumpling House and De Fa Chang Restaurant in 1984 based on the traditional dumplings banquet. There usually are more than 100 inside stuffs and each dumpling is filled with different stuff. For example, if there are 7 people, there would be only 7 dumplings on the dish on the dining table and the second dish with different stuffed dumplings would be served until the last ones are eaten out. The dining would keep going on until customers can't eat anymore. In the whole banquet, the same dumplings won't appear twice. It would be a great feast for both eyes and stomach in a Xian Dumpling Banquet Tour. Please feel free to contact us at info@chinaxiantour.com if you want more information about Xian Dumpling Banquet tours, we will give you the best price!
Now there are many restaurants in Xian providing dumpling banquet. Here are some top-ranked ones for your reference if you are going to add a Dumpling dinner into your Xian Day Tours:
Defachang Dumpling House (Bell Tower)
Defachang, established in 1936, is the most famous one among all of them with a wide variety of dumplings. Located at the center of this ancient capital, it's also very easy to get to.
Address: 2nd Floor, Defachang Dumpling House, No. 3 West Street, Zhonggulou Square, Lianhu District, Xian
Tel: 029-87214060
Xian Restaurant (East Street)
Xian Restaurant is a time-honored restaurant dating back to 1929. It once received many important domestic political and cultural figures. Now it has become a comprehensive hotel integrating catering, accommodation, entertainment, business, shopping, tourism and food industry. In addition to dumplings, it also provides many authentic local dishes.
Address: No. 298 East Street, Beilin District, Xian
Tel: 029-87680769; 029-87680883; 029-87680618
Daqinghua Dumpling House (South 2nd Ring Road)
Daqinghua Dumpling House features northeastern Chinese cuisine. You can have yummy dumplings here and experience a different cuisine you may have never tried.
Address: No. 56 East Section of South 2nd Ring Road, Xian
Tel: 029-87261619
Shaanxi Grand Theatre
If the Tang Dynasty Show is also on your list, you can try this theatre which also provides dumpling banquet. If you plan to watch the show, highly recommend you to reserve the tickets online first and arrive in advance in case you are delayed and miss some parts.
Opening Hours: dinner time: 18:00-19:50; show time 20:00-21:10
Address: No. 161 Wenyi Road, Xian
Tel: 029-87853295; 029-87853296
Tang Dynasty Palace
Tang Dynasty Palace is also a great choice to kill two birds with one stone as it also provides both the Tang Dynasty Show and dumpling banquet.
Opening Hours: dinner time: 18:00-19:30; show time: 19:30-20:35
Address: No. 75 Chang'an North Road, Beilin District, Xian
Tel: 029-87822222