Day 1
Chengdu Arrival with Hot Pot and Sichuan Opera
Our driver and guide will hold your name and greet you at airport. After check-in at your hotel and a short rest, we will get your stomach well treated with the famous Sichuan hot pot. After it, you will come to appreciate the classic Sichuan Opera—Changing Faces. Finally, you will be dropped off at your downtown hotel.
Special Note: You are suggested to arrange your flight to land on before 3pm.
Accommodation: Local 3* Hotel
Day 2
Sichuan Cuisine Class and Panda Tour
Sichuan Cuisine is listed as one of "Chinese Eight Cuisine" and popular on each inch of Chinese land. Today's tour starts from a Sichuan Cuisine Class with the professional cook. You will learn how to make the famous Mapo Bean Curd (Mapo Tofu) and Kung Pao Chicken from the cook who will show you the details of each step. In the noon, you will have lunch here and find the dishes you cooked will be the table. In the afternoon, you will go to the No. 1 highlight of Chengdu: Panda Base. Panda is the national treasure of China as we know and also adorable so much on planet so that many people feel happy even just seeing them eating and playing. Here is the chance for you to see the real pandas before your eyes. Chengdu Panda Base is the largest panda base in the world where you could see more than 50 pandas. You will spend about 2 hours here to enjoy the happy time with cute pandas. Finally, you will be escorted back to your hotel.
Accommodation: Local 3* Hotel
Today let's go to visit the largest cliff inscription of China: Leshan Buddha.
Our guide and driver will pick you up form your hotel after breakfast and then transfer you to Leshan city for the big Buddha. It was started to be carved in A.D. 713, Tang dynasty and completed A.D. 803, spending 90 years in total. The reason to excavate was that the local people suffered from the flood each year because it's special location that three rivers meet here. There was a Monk named Haitong made up mind to help the local people and started this huge work. Although it was disturbed times for many reasons, it was completed after 90 years with efforts of generations. You will surprise at how the ancient people make such huge a Buddha in old time when you see its real size. After the tour here, you will come back to Chengdu and have a rest at Chengdu Renmin Park where you can enjoy tea which is a necessary activity for a Chengdu local. Besides, you can also enjoy some item that a real-local love to do like ear cleaning (Optional and cost on your own). No worries that your ear will be hurt, they are sophisticated and professional. Finally, come back to your hotel.
Accommodation: Local 3* Hotel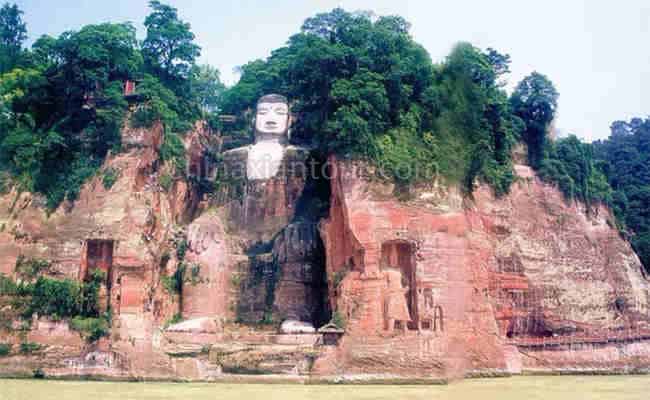 Let's head to Xian today after exploration in Chengdu!
Our driver will pick you up from your hotel in the morning and then send you to Chengdu train station for bullet train to Xian (G1918/09:00-12:23 or similar one, 2nd class seat). When you arrive to Xian train station, our Xian local guide will greet you by holding your name and then go for lunch firstly. After lunch, you will get to visit the Ancient City Wall which usually leads to people first-impression to Xian: old with long history. Not surprisingly, it's because you have to go through the gate of City Wall when you get to the city center and the bricks-made wall with 600-year-history no doubt to be remarkable in a stranger's mind. Next, go to the famous Muslim Quarter. It's a paradise for the food-goer as you can find all he authentic local and even Chinese northwest area's food here. Strolling on the stone paved street, your eyes will be well feasted, and mouth watered with all kinds of snacks alongside. Xian food is different compared with Sichuan, like the characteristics of local people. Just enjoy your Xian time from here!
Finally, you will be transferred to local hotel to check in. Get a good rest tonight!
Accommodation: Local 3* Hotel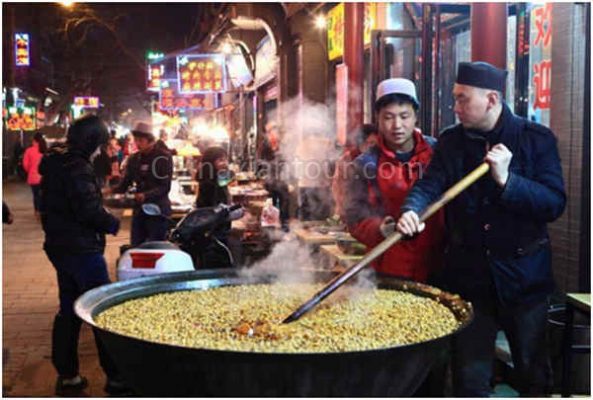 Day 5
Cooking Class at Local Family and Visit to Terracotta Warriors
It's the highlight of Xian part today! Morning pickup is after your breakfast. Then you will go to visit the 8th World Wonder Terracotta Warriors. On the way to Terracotta Warriors Museum, you will stop at a terracotta figurine factory to specialize in the reproduction of the clay warriors. Watch the artisans craft the miniature statues and take the opportunity to try carving a figurine by yourself. Then arrive at famous Terracotta Warriors and Horses Museum, known as "the Eighth Wonder of the World". The museum shows a surprisingly high level in sculpture which makes it the most significant archaeological discovery in the 20th century. The museum includes Pit 1 (the largest), Pit 2 and Pit 3, the exhibition hall of the chariots and horses as well. In the afternoon after a lunch, go back downtown to visit a local family, chat with them to get a better ideas local life and culture. You will learn to cook local dishes and make dumplings with the host. Of course, you will have dinner with them together. It's really cool when the dumplings you made in person get on table to be shared with other people. You will be dropped off at your hotel finally.
Accommodation: Local 3* Hotel
Day 6
Xian City Tour by Subway and Overnight Train to Beijing
It's a leisure day today.
Still meet your guide in the morning at your hotel lobby and then take subway to visit another landmark of Xian, Big Wild Goose Pagoda. as initially built to preserve the Buddhist sutras and statues brought back from ancient India by Monk Xuanzang in Tang Dynasty. It stands in a temple named Daci'en Temple. You will appreciate the precious palm-leaf scriptures, calligraphy works, exquisite murals and great poems from that period, and listen the interesting stories from your guide. You can stroll with guide and immerse yourself into the Buddhist atmosphere around with informative introduction from guide, or if you would explore the famous site more, you can choose the climbing Pagoda option to see how the inside of the thousand-year-old pagoda looks like and get an amazing bird view of the surrounding area. Lunch will be at the most busy area of Xian: Xiaozhai, you will have chance to eat the food that local people love most. In the afternoon, if you would like to have a half day to rest considering you have already experienced 5 full days' traveling, the guide will company you back to your hotel; If you still want to see more of this city, our guide will lead you to visit the Small Goose Pagoda which was also built to, together with Big Wild Goose Pagoda, store the Buddhist sculptures brought from India by Xuanzang. The driver will pick you up around 6pm to transfer you to train station to catch up the overnight train (Z44/19:27-08:22 or similar one, 4 berths in one cabin) to Beijing.
Accommodation: Overnight Night Train
Day 7
Beijing Arrival and Beijing City Tour
Upon your arrival, our guide and driver will greet you at the train station. You can ask the guide to help find a restaurant to solve your breakfast or just buy some take-aways food (cost on your own). Then directly go the first highlight today: Forbidden City. It had been the royal palace of Ming and Qing dynasties where you could trace those emperors and his families' life today, from which you could learn the hidden stories of each corner of the world famous royal architecture groups. Then move to Temple of Heaven. It's a sacred place in the old time as Ming and Qing emperors would pray for fortune of the nation here. Today, besides the thick history and culture of it, you can get much enjoyment from its architectural beauty. The last site to be visited today is the renowned Summer Palace, the royal garden of Ming and Qing dynasties.
In the evening, please just get your stomach ready for the famous Peking Roast Duck which is a dish that no one should miss if he/she comes to Beijing. Finally, you will be sent to local hotel for check in.
Accommodation: Local 3* Hotel
Day 8
Great Wall and Ming Tomb Tour
Today you will explore the well-known Mutianyu Great Wall to leave your footprints of this remarkable work.
In the morning, our guide and driver will meet you at your hotel after your breakfast. Firstly, you will go for the Mausoleum of the 13th emperor of Ming Dynasty. On the way to the Ming Tomb, you will pay a short visit to the Jade Caving Factory where you could learn the Chinese jade culture and some tips to pick out the real good jade. If you are interested in jade, you can buy some as souvenirs here. Next, visit the Ming Tomb. It's not only a place to let you know the history of Ming dynasty but also a place to show you the mysterious Fengshui culture which only exits in China. Then please take a short rest on the car before you get you Mutianyu Great Wall. Upon arrival, you will have a simple lunch firstly to summon up for the later hiking on the Great Wall. Cable car is a good option for you if you would like to save energy and time to trek on the most beautiful part of the Mutianyu Great Wall. Finally go back to downtown hotel.
Accommodation: Local 3* Hotel
Day 9
Beijing City Hutong Tour and Bullet Train to Shanghai
Today you will get a wonderful ending about Beijing tour at Hutong alley and take a bullet train to Shanghai in the afternoon.
Still meet your guide and driver in the morning after breakfast and then head to Hutong. You will take a Rick-Shaw to explore the typical architecture of old Beijing. After lunch, get on the car to Beijing train station for the bullet train to Shanghai (G11/15:00-19:28 or a similar one, the 2nd class seat). Our Shanghai driver will hold your name to pick you up at the entrance and then transfer you to Shanghai local hotel for check-in.
Accommodation: Local 3* Hotel
Day 10
Shanghai City Tour
Meet your Shanghai guide at your hotel lobby in the morning and then take subway to explore the Yuyuan Garden. It is a classical and famous ancient Chinese private official garden style in Shanghai boasting with elegant pavilions, villa, lotus pond and bridges. Nearby the Garden, you could stroll at the Yuyuan Gardern Market to have a look at those local snacks and crafts. The next stop is Shanghai Museum which introduces you the history of this world-renowned metropolis, from where you will get a better idea of Shanghai City. Afterwards, go to the Oriental Peral Tower, the best-known landmark of Shanghai, to have a bird-view of Shanghai and just immerse you into it's mixed modern and natural beauty. Out of the tower, you will have a leisure walk at the Bund, listen to the guide's explanation and appreciate the beautiful Huangpu river and architectures combined with both western and Chinese elements as special heritage of colonial period. Finally, take subway back to your hotel.
Accommodation: Local 3* Hotel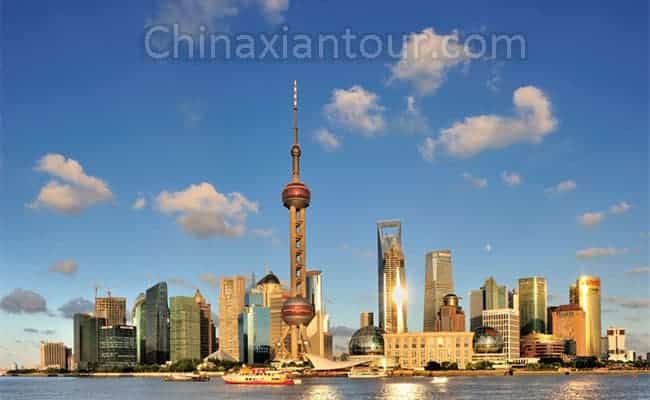 Day 11
Zhujiajiao Afternoon Tour with Night Food Tour
Today you will take a tour in the afternoon and evening while morning is left for your disposal.
At 12:00, meet your guide and diver form your hotel and then head to Zhujiajiao Watertown. It's a totally different experience wait for you here: Zhujiajiao is a typical Chinese Watertown with elaborate bridges and architectures, peaceful life style and picturesque views. Boat cruise here is an optional activity based on your own interest. After visiting here, come back to Shanghai downtown to get a lovely Night Food & Show tour. You will enjoy the most famous Shanghai food Tangbao. To avoid the hot Tangbao burning your mouth, you can have a tiny small bite first, then suck soup and enjoy the Tangbao. In the night, prepare your eyes for the amazing Chinese acrobatic show.
Finally, you will be dropped off at your hotel.
Accommodation: Local 3* Hotel
Day 12
Free on Your Disposal
It's a free day with arrangement on your own!
Accommodation: Local 3* Hotel
Day 13
Shanghai Departure
Our driver will pick you up from your hotel to transfer you to airport for your departure airline (usually 4 hours for international flight and 3 hours for domestic flight).