China Snow Town, the full name called "China Snow Town National Forest Park", is located in Mudanjiang city, Heilongjiang province, China, which is about 70 kilometers away from Mudanjiang city and 280 kilometers away from Harbin, and under the administration of Dahailin forestry bureau. Snow town scenic area is located in the junction of Zhangguangcai mountain and Laoye Mountain of Changbai Mountain range, where it is 5 kilometers away from Changting town of Mudanjiang City. It covers an area of 17,916 hectares and is 1,100 meters above sea level. Because of the frequent intersection of cold air of lake Baikal and sea warm current of Sea of Japan, it forms the unique climate that snow period lasts for seven months (from October to May in next year) and the snow thickness can be up to 2 meters. Thus, with the heavy snowfall and high viscosity of the snow, it enjoys the great reputation as famous "China's snow town".
Basic Facts about the China Snow Town:
There are many scenic spots in China Snow Town, such as primary forest scenic spot, Sea wave river drift scenic spot, pear flower villagescenic spot, two waves river scenic spot, farm courtyard, film and television base, snow culture exhibition hall, Yangcao Mountain, big snow valley and so on. The beautiful and white snow change with the wind, and are attractiveand charming.
The national ski training base Bayi ski team is located in snow town, which has cultivated many excellent world-class skiers for the country. In addition, the bandits' den, racecourse, wooden house, trestle, hanging tower, cellar and birch forest in snow town have formed a primitive cultural style, which reproduces the scene in the period of suppressing bandits in northeast China. And the sunrise on Yangcao Mountain cannot be missed.
In Shuangfengscenic area, there is a primary ski resort built in 1999, with 450 meters long and 50 meters wide ski runs and many sets of snow tools and towing equipment. Nowadays, the ski resort is fully equipped with many advanced tourist facilities. Located under the ski resort, there is a snow hotel, and the small wooden building looks like a pearl dotted between the mountains and snow, which is an ideal place for you to gosightseeing and have a relax.
Snow town is locatedin the deep mountains, but it is aworld-famous and popular tourist destination because many photographic works of this scenic spot have won international awards. It has the highest mountain in the northern China, the densest forest, the thickest snow, the cleanest and transparent sunshine and the simplest life of lumbering workers. When you enter the China snow town, you will be fully attracted by the snow scenery around you.
Thecuisineof Snow town is mainly cooked in stewing, stir-frying, roasting and other cooking methods. All the dishes are processed and cooked with the vegetables grown by the local residents, wild vegetables picked in the forest and poultry raised by the local residents. The specialties of snow town are eight stewed dishes, eight stir-fried dishes and other. Sitting on the fire "Kang" (local bed), people can eat delicious stewed chick with mushroom, braised pork with vermicelli and other In the cafeteria of snow town, there are various food for visitors to choose, especially hot pot, barbecue.
If you want to stay in snow town, you can choose the business hotel to experience the unique local family hotelin snow town.Sleeping on the warm "Kang" and tasting fresh and delicious the local food may give you an interesting travel experience and leave you deep impression about the snow town trip.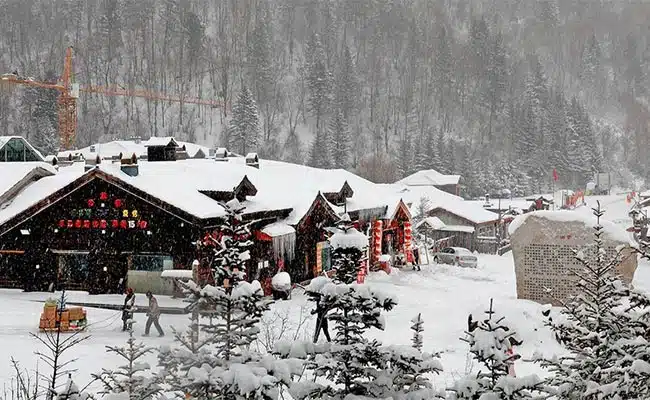 Travel tips:
The average temperature of snow town in January and February is -18.3 °c and -10.4 °c respectively.So, visitors should bring enough clothes, such as thermal underwear, hat, face mask, thick cotton boots and thick cotton gloves. And you had better bring a leg protector on your leg to prevent snow from entering your shoes, which could help you walk in the snow.
Sunglasses are the necessities. Becausesnow strongly reflects light and may cause eye irritation. So, it is necessary for you to wear sunglasses to protect your eyes when you go out.
Keep your camera warmand put it back quickly in your bag when you've taken a picture, and be sure to bring more
It's best to carry an insulated kettle and make sure there's plenty of hot water.And snacks with high-calorie should be prepared well before you go out.
The breathability of the clothesmust be strong, otherwise the sweat of the body after the activity is not easy to discharge, which is easy to get a cold.
You can visitthe town all year round, but if you want to see the snow scene, you can only visit it from December to March.
How to Buy Entrance Tickets:
Price of ticket: CNY30
Opening time: whole day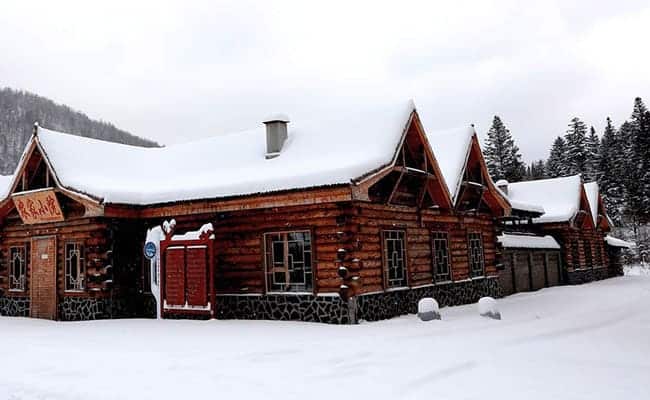 When is the best time to visit?
The best time to visit snow town is November, December, January, February and March. We highly recommended to go to snow town during the Spring Festival, not only because of the beauty and charm of the snow scene, but also because of the special and traditional life customs there. During the Spring Festival, every household is decorated with lanterns, and everywhere is full of festive mood. However, it is inevitable that the passenger flow here is very large during the Spring Festival, which may lead to an unpleasant travel experience on you.
Tips: Visitors had better avoid the official holiday in China, because many Chinese citizens choose to travel on official holidays to ease the pressure of their work. As a result, many Chinese tourist attractions are overcrowded and traffic jams are common. Therefore, visiting China at this time will bring tourists a less pleasant travel experience.
Official Holidays in China
| | |
| --- | --- |
| Chinese New Year | Around January or February |
| Winter vacation | January-February |
| Labor Day | May1st -3rd |
| Summer vacation(for students) | July-August31st |
| Mid-Autumn Festival | Around mid-September |
| National Day | October 1st-7th |
How to get to the China Snow Town?
High-speed railway
Harbin–Yabuli–China Snow Town
Visitors can take high-speed trainfrom Mudanjiang to Yabuli, and then take the direct bus to Snow Town.
Sightseeing direct bus
From Harbin to Snow Town: it takes about 5.5 hours, and people can take bus at the Beidahuang International hotel, international tourism distribution center or the gate of Longyun travel.
From Mudanjiang to Snow Town: visitors can take sightseeing bus at the gate of Mudanjiang tourism distribution center.