Guide for Visiting Ancient Xian for 4 Days on Your Own
For a independent traveler, the best duration for a Xian Tour is 3-5 days so to cover some most worthwhile places in slow pace. And the best time to visit the city is March – May and Sept – Oct. In the spring and autumn, it is neither too hot nor too cold. Hence they are best for outdoor activities – traveling. Of course before departing there also many other Xian Tour Guide information worth your attention.
There is a saying among Chinese people: Go to Shenzheng to see change of China in the past 20 years; see China in the past 100 years in Shanghai; learn about Chinese history in the past 1000 years in Beijing; and if one wants to see history of China in the past 5000 years, he has to go to Xian.
Brief Schedule:
Day 1 Shaanxi History Museum
Day 2 Big Wild Goose Pagoda
Day 3 Terracotta Warriors and Horses, Huaqing Hot Spring
Day 4 Stone Steles Museum, Gao's Compound
Day 1
Xian has lots of special local food and snacks. Though some of them are not good-looking, they are all tasty. If you are food lover, we advise you book hotel excluding breakfast to save money for local snacks.
In both main street and narrow alleys you could find breakfast stalls easily. After breakfast, head for Shaanxi History Museum. The typical collections of the museum are:
Bronze ware from the slavery Shang Dynasty (1600BC-1046BC) to the feudal Han Dynasty (202BC-220AD). Among the  bronze ware there are sacrificial vessels, musical instruments, weapons, chariot wares, living goods, and production tools.
Terracotta Figures of past feudal dynasties from the Qin Dynasty (221BC-207BC) to the Qing Dynasty (1636AD-1912AD). They are plain pottery, colored pottery, glazed pottery, etc.
Currency of past dynasties: money cowrie, knife-shaped coins, huge god coins, and some rarely seen foreign currency of ancient time.
Beside the collections above, you could also see some Chinese photography and paintings, Buddhist sutras, woofs, bone objects, lacquer wares, iron wares, seals, and many other cultural relics unearthed within Shaanxi province.
If take a in-depth look at collections in the museum it will spend 3 hours. Then lunch time is coming! You could go to Muslim Quarter, the best known food street. Sightseeing and having lunch in Muslim Quarter. Noodles, plum juice, toast mutton, spicy dips, buffet hot-pot… are all worthy of trying.
Day 2 
Big Wild Goose Pagoda stands in Daci'en Temple. Actually the entrance fee CNY50 is for Daci'en Temple. Enter the temple you can have a close look at the temple. If climbing the pagoda you need to pay extra CNY30. When it is not cold, walking in the courtyard of the temple is quite relaxing. Besides the tourist, many monks also go here for study or prayer.
Small Wild Goose Pagoda was originally built in the Tang Dynasty. It is a brick pagoda with thick eaves. And its architectural style shed influence to many pagodas in China. Though Small Wilde Goose Pagoda is not so spectacular as Big Wild Goose Pagoda, it is of more taste of history changes.
Within Small Wild Goose Pagoda you will meet Xian Museum. It is open to public for free. It more or less likes Shaanxi History Museum, but the collections here were all excavated from Xian city and nearby area.
Where to have lunch today? We recommend food city in the 7th floor of Saga Shopping Mall in Xiaozhai. No matter you want western food or Chinese food, spicy food or lite food, cheap snacks or some more delicate dishes, your stomach will be satisfied here.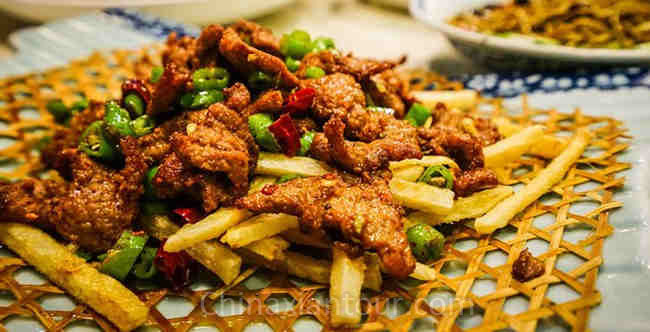 Day 3 
No one can skip Terracotta Warriors and Horses if he comes to Xian. Taking a bus from East Square of Xian Train Station or Rent a car to Terracotta Warriors are both ideal way to the museum. from ticket office to Pit 1 you will walk 10-15 minutes. And taking a scenic battery cart it spends 3-5 minutes. The extra cost is CNY5. There are three pits in Terracotta Warriors Museum. Pit 1 is largest with over 6000 excavated figures, the scale is followed by Pit 2 and as headquarter of the whole army, Pit 3 is the smallest. So some people think if visiting from Pit 1 to 2 and to 3 one may be sad. And visiting reversely, he will be surprised from start to end. Beside the 3 terracotta figure pits, in Bronze Horse and Chariots Exhibition Hall you will see two bronze chariots. They were "BMW" of Emperor Qinshihuang.
On the way from Xian city area to Terracotta Warriors Museum, the car will pass Huaqing Hot Spring. It combines cultural, historical, and natural factors together and was the detached palace of the Zhou, the Qin, the Han, the Sui, and the Tang Dynasty due to the rich natural hot spring resource. The rebuilt buildings in the scenic area are all in Tang Dynasty style. They are elegant and grand. The excavated ruins of hot spring bath pools show modern people the real look of ancient imperial bathing pools.
In the evening the performance of Ever Last Sorrow Performance in open air is loved by Chinese people and international tourist from Asia with Chinese background. If you want to save trouble of arrange all itinerary on your own, find a local travel company to do a One Day Small Group Tour to Terracotta Warriors, Haqing Hot Spring, and Banpo Museum is recommended.
Day 4
Today will be the last day in Xian. There are still two places worthy of seeing. City Wall and Stone Steles Museum. Taking a walk to witness details of the ancient military defense constructions and feel the ups and downs of the city history. And looking downwards from City Wall  you will see the real life of Xian people in Shuncheng Xiang Alley.
Stone Steles Museum (Beilin Museum) is honored as the stone-book library in China. It locates at insider of South City Wall. There you can see steles in 2000 years ago. The contents these steles bear are the real treasure of the museum. If you don't known Chinese the museum is not recommended because you may find it is boring.
If time allows, there is one more place hides in Muslim Quarter you can see – Gao's Courtyard. The body of the courtyard was built in the Ming Dynasty in 400 years ago. By now 1/4 of the courtyard is open to tourist. Here one will see the real look of ancient architecture we read in articles and saw on TV.