The Hot Springs Around Xian
Have a hot spring bath in the cold winter is really a good way to relax yourself. The good news is that there are many good hot springs around Xian to fit your expectation regarding the relaxing hot spring tour. The collecting details about these hot springs are as below, read it, pick out which you prefer and just have fun with your families and friends here.
Huashan Royal Spa
Opening time: January-December, 10:00-00:00
Description:
Located at the foot of Huashan Mountain, Huashan Royal Spa has high quality hot spring resource with value for health care. The hot spring water here is taken from the deep underground of 2600m; the temperature is up to 105 ℃; water yield is up to 240 ml³per hour, containing many rare minerals, such as strontium, iodine, sodium and lithium which are good for health of people. It is renowned as the "First Spring in the Northwest of China".
Entrance fee: CNY179 per adult; CNY90 per children (no less than 1.4m)
Transportation:
Xian East Bus Station/ Xian Train Station (cost about CNY28) —the ninth exit of toll station of Luofu—taking taxi (cost about CNY10) for 10 minutes to arrive there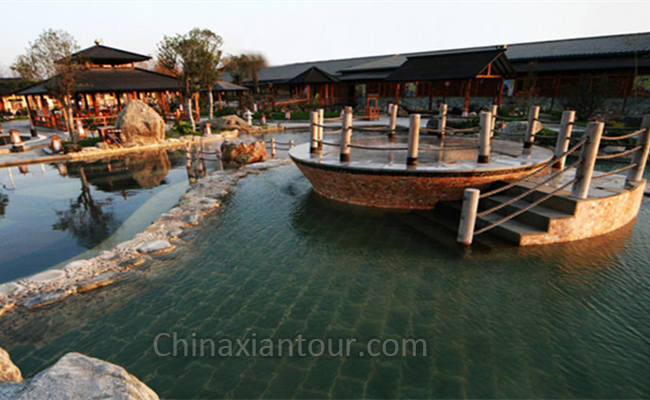 Huaqing Aegean International Hot Springs Resort & Spa
Opening time: January-December, 13:00-24:00
It is a quite famous Hot Spring Resort Hotel nationwide as it is the first hot spring resort hotel in the whole country, located in the area of the Huaqing Pool Relics, Lintong District, Xian City. The Hot Spring Resort has been designed into a typical royal garden, corresponding to the Huaqing Palace. It occupies about 260 acres, and is divided into six functional zones by three landscape belts. One is more than 100 acres' pomegranates with over 100 years' history, one is a bamboo zone and the last one is a belt of water zone. It are the three belt that make the Hot Spring Resort grand and fair, just impressing the visitors with its royal garden style.
Entrance fee: CNY238 per person
Transportation: take the metro line 1 from Beidajie Station to Banpo Station, then walk to Baozi Village Station to take Bus307 and get off at Xian University of Technology Station, finally walk to the Huaqing Aegean International Hot Springs Resort & Spa.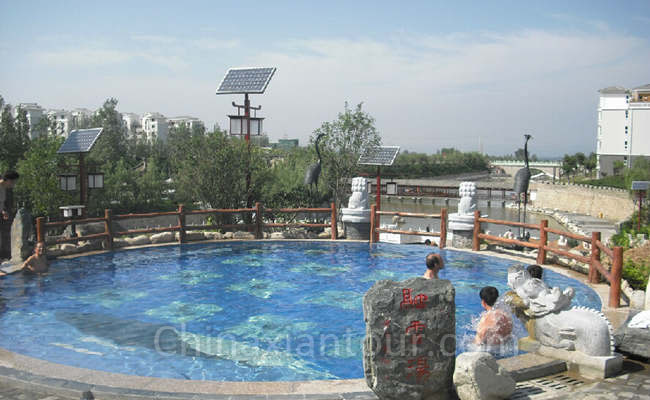 Bali Hot Spring
Opening time: January-December, 09:30-22:00
Description: It is an old Hot Spring Resort with eating, living and entertaining all in one, located in the Weinan City about 2 hour's drive from Xian. Bali Hot Spring not only serves visitors with the high quality's water but also the special recreation facilities for the children. As there, all you and your families could be treated well and satisfactorily.
The great thing of this Hot Spring Resort is that it has rooted the health-preservation culture into the spring water. The hot spring pools there have multiple but different functions: Pollen Pool is for skin care; Wine Pool is for relaxing muscles and tendons as well as eliminating tiredness; Chinese Medicine Pool is for improving health; the Lashing Pool is for eliminating the cervical hurt and headache.
Entrance fee: CNY69 per person
Transportation: Xian-Xi Yu Highway (about 80 minutes) —passing by Gaoling, Yanliang, Fuping, Pucheng—the exit to Sun Town and heading north 100m and then drive 3 km
Daqin Hot Spring Resort
Opening time: January-December, 08:00-23:00
There are major three features makes Daqin Hot Spring Resort famous: The first Qin Culture Hot Spring Resort Hotel in Shaanxi; 56 different sorts of hot spring pools here serves to the customers, including outdoor landscape style pools and indoor public pools; private hot spring zone, single-family hot spring and entertaining area for children are all approachable at there.
The first floor is mainly public hot springs including multiple sorts' springs, about 5400 m². The second floor is taken as the leisure area for movies, pedicure, fitness, coffee and food.
Entrance fee: CNY199 per person
Transportation: take Bus K630, k606, 729, 901, 902 to No.1 West Epang Road; take Bus 302, 521, 720, 911 to the Heping Village Station and then head to north for 600m.