Zhengzhou Travel Guide
Zhengzhou, located in central China, stands as the thriving capital and largest city of Henan Province. This city holds immense historical significance, being recognized as one of the ancient capitals and a key birthplace of Chinese civilization. With a rich heritage spanning over 3,500 years, Zhengzhou boasts an array of cultural and historical landmarks that captivate visitors. Among these notable sites are the revered Shaolin Temple, the esteemed Songyang Academy, the fascinating Yin Ruins, and the iconic Erqi Memorial Tower.
Zhengzhou's prominence extends beyond its historical treasures, serving as a vital transportation hub that connects major cities like Beijing, Xi'an, and Guangzhou through an extensive high-speed rail network. Amidst its modernity and dynamism, Zhengzhou seamlessly presents a blend of China's captivating past and thriving present.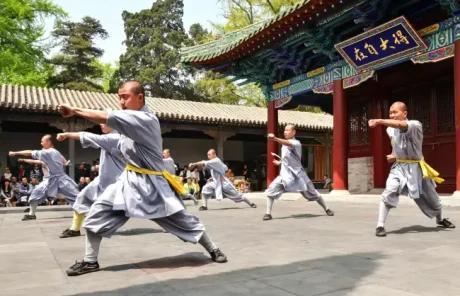 Chinese: 北京 Běijīng /bay-jing/ 'Northern Capital'
Location: Northeast China
Population (urban area): 21M
Why Visit Zhengzhou
Historical Significance: Zhengzhou boasts a history that spans over 3,500 years, making it one of the eight ancient capitals of China. As a cradle of Chinese civilization, the city is steeped in historical significance and is home to numerous cultural and historical sites. Exploring these ancient relics provides a deep insight into the country's illustrious past.
Cultural Experiences: Zhengzhou provides ample opportunities to immerse yourself in Chinese culture. From traditional customs to folk art forms, you can explore the city's cultural heritage at the Zhengzhou Folk Museum and experience the local way of life.
Culinary Delights: Food enthusiasts will delight in the local cuisine of Zhengzhou. From the famous Luoyang Water Banquet, featuring an array of delectable dishes, to the savory steamed soup dumplings known as Xiaolongbao, the city offers a culinary journey that tantalizes the taste buds.
Convenient Transportation: As a major transportation hub, Zhengzhou provides excellent connectivity to other parts of China. Its efficient high-speed rail network allows easy access to renowned destinations like Beijing, Xi'an, and Guangzhou, making it a convenient base for exploring the country.
Top Attractions in Zhengzhou
Top Things to Do in Zhengzhou
Explore the Shaolin Temple: Visit the world-famous Shaolin Temple, located near Zhengzhou, to witness awe-inspiring Kung Fu performances, explore the ancient Buddhist monastery, and immerse yourself in the rich history and culture of Chinese martial arts.
Discover Henan Museum: Delve into the fascinating past of Henan Province at the Henan Museum. Marvel at the extensive collection of artifacts, including ancient pottery, bronze ware, calligraphy, and paintings, which provide insights into the region's cultural heritage.
Wander through the Yellow River Scenic Area: Take a leisurely stroll along the banks of the Yellow River, often referred to as the "Mother River of China." Enjoy the scenic views, engage in water activities, and experience traditional Chinese customs and performances in this picturesque setting.
Visit the Zhengzhou Folk Museum: Immerse yourself in the local culture and traditions by exploring the Zhengzhou Folk Museum. Discover the traditional architecture, folk customs, and various art forms that showcase the city's cultural heritage.
Experience the Zhengzhou CBD: Explore the bustling Zhengzhou Central Business District (CBD), where towering skyscrapers, luxury hotels, shopping malls, and entertainment venues create a vibrant atmosphere. Indulge in shopping, dining, and immerse yourself in the city's modern lifestyle.
Taste Local Delicacies: Savor the flavors of Zhengzhou by trying local delicacies. Don't miss the Luoyang Water Banquet, a unique culinary experience featuring a variety of cold and warm dishes. Also, indulge in the famous steamed soup dumplings known as Xiaolongbao, which offer a burst of flavor in each bite.
Explore the Erqi Memorial Tower: Visit the iconic Erqi Memorial Tower, a symbol of Zhengzhou's revolutionary history. Climb to the top for panoramic views of the city, and learn about the tower's significance in commemorating the workers' strike of 1923.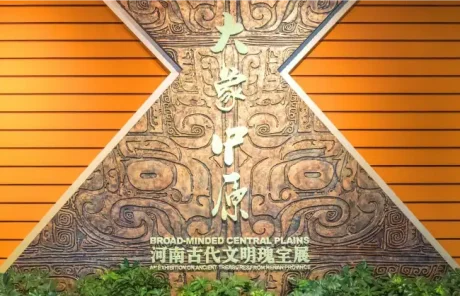 Zhengzhou Weather & Best Time to Visit Zhengzhou
Zhengzhou boasts a delightful warm temperate continental monsoon climate characterized by four distinct seasons. With an average annual temperature of approximately 14.3°C (57.7°F) and an average annual rainfall of about 640mm (25.2 inches), the city's climate offers a pleasant experience throughout the year. July takes the crown as the hottest month, with an average temperature of 27.3°C (81.1°F), while January claims the title for the coldest month, with an average temperature of -0.2°C (31.6°F). July and August bring the highest rainfall, while December and January experience drier conditions.
For an ideal visit to Zhengzhou, it is recommended to plan your trip between April and May or from September to November. During these periods, the weather is mild, the air quality is optimal, and the natural scenery exudes captivating beauty. Witness the blooming flowers of spring or the vibrant hues of autumn leaves during these seasons. Keep in mind that these periods are also popular among tourists, so it is advisable to secure your accommodations and transportation arrangements in advance.
Additionally, consider aligning your visit with one of the city's festivals or events to enhance your cultural experience. The Zhengzhou International Shaolin Wushu Festival, held from September 1st to September 5th, showcases the renowned martial arts heritage of the region. The China Rose Flower Fair, taking place from May 1st to May 20th, celebrates the beauty of roses and offers a delightful floral extravaganza. Alternatively, the Xinzheng Date Village Tour, occurring from late August to September 20th, provides an opportunity to immerse yourself in the local culture and customs surrounding the cultivation of dates.
Zhengzhou Transportation
How to Get to Zhengzhou
By Flight: Zhengzhou Xinzheng International Airport serves as a prominent national aviation hub, facilitating flights from more than 110 domestic and international cities. Major cities like Beijing, Shanghai, Guangzhou, Chengdu, Hong Kong, Macau, Seoul, Tokyo, Kuala Lumpur, Bangkok, and Singapore are all connected to Zhengzhou. The average flight duration from Beijing or Shanghai to Zhengzhou is approximately 2 hours. Situated around 31 km (19 mi) from the city center, the airport offers convenient transportation options, including shuttle buses, taxis, and metro services.
By Train: Zhengzhou holds significant importance as a major railway hub in China, featuring two main railway stations: Zhengzhou Railway Station and Zhengzhou East Railway Station. These stations offer a comprehensive network of high-speed and normal train services, connecting Zhengzhou to various destinations across the country. Cities such as Luoyang, Kaifeng, Beijing, Shanghai, Xi'an, and Guangzhou are easily accessible via high-speed trains that typically complete the journey from Beijing or Shanghai to Zhengzhou in about 3-4 hours. Convenient metro, bus, and taxi connections are available from the railway stations to the city center.
By Bus: Zhengzhou provides an extensive long-distance bus network with multiple bus stations catering to nearby cities and provinces such as Luoyang, Kaifeng, Jiaozuo, Anyang, and Xuchang. These bus stations are conveniently located throughout the city, and transportation options such as the metro, buses, and taxis can be utilized to reach them. The travel time and fare for bus journeys vary based on the destination and the type of bus. Generally, buses offer a more economical option, although they tend to be slower compared to trains or flights.
By Metro: Zhengzhou boasts an extensive metro system comprising five lines: Line 1, Line 2, Line 5, Line 14, and Line S1. These lines efficiently connect major attractions and transportation hubs throughout the city. The metro offers a swift, convenient, and affordable mode of transportation, with a flat fare of 2 yuan per ride. Tickets can be purchased at the station, or alternatively, you can use a transportation card or mobile payment method for seamless entry. The metro operates daily from 6:00 to 23:00, ensuring reliable service for commuters and tourists alike.
By Bus: Exploring Zhengzhou via bus presents an economical option as many tourist attractions are not within close proximity to hotels. Bus fares typically range from 1 to 3 yuan, depending on the distance and bus type. Payment can be made in cash or through the use of a transportation card. It's important to note that buses may experience congestion and slower travel times during peak hours, and some routes might lack English signage or announcements. However, with a bit of prior planning and attention to routes, buses can be a practical and cost-effective means of transportation in Zhengzhou.
By Taxi: Taxis provide a comfortable and convenient mode of transportation in Zhengzhou, particularly for those with luggage or traveling in groups. The initial fare for taxis starts at 8 yuan for the first 3 kilometers, with an additional charge of 1.8 yuan per kilometer thereafter. Taxis can be hailed directly from the street or booked through mobile applications like Didi Chuxing. If needed, hotels can assist in arranging taxi services. It's worth noting that most taxi drivers do not speak English fluently, so having your destination written in Chinese or utilizing a map can facilitate smooth communication.
By Bike: For a fun and eco-friendly way to explore Zhengzhou at your own pace, biking is an excellent option. Numerous bike-sharing companies, such as Mobike, Ofo, and Hellobike, operate in the city, offering rental services. To rent a bike, you'll need to download the corresponding app and scan the QR code on the bike to unlock it. Bike rental fees typically amount to 1 yuan per hour or even less. Upon completing your ride, you can conveniently park the bike at any designated area.