Mount Song stands as a solitary mountain range situated in the Henan province of China, gracefully positioned along the picturesque south bank of the Yellow River. This captivating mountain range holds a prominent position among China's esteemed Five Famous Mountains and is widely recognized as Zhongyue, translating to "middle mountain."
With an impressive collection of 72 peaks, the pinnacle of Mount Song reaches a staggering height at Lian Tian Feng, soaring majestically to 1,512 meters. This extraordinary mountain range serves as the revered birthplace of Zen Buddhism and Taoism within China, boasting a rich heritage steeped in history and culture. Its revered grounds house numerous esteemed sites, including the renowned Shaolin Temple, Songyang Academy, Zhongyue Temple, and the enchanting Pagoda Forest. Recognized as a UNESCO World Heritage Site, Mount Song is a true testament to both the awe-inspiring beauty of nature and the profound spiritual enlightenment it evokes—a captivating haven for both the soul and the senses.
Location: about 55 km northwest of Luoyang city and 90 km southwest of Zhengzhou city.
Opening time: from 8:00 am to 5:00 pm every day.
Ticket price: CNY80 per person, which includes admission to the Songyang Academy, the Observatory, and the Luya Waterfall.
Time Needed: about 6-8 hours
Best time to visit: March to May and from September to November
Suited to: anyone who is interested in nature, history, culture, and religion. It is also a great place for hiking, climbing, photography, and learning.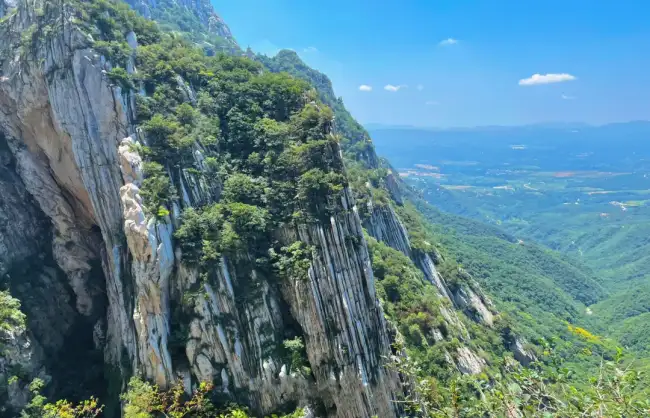 What to See and Do in Mount Song
Shaolin Temple: Witness the birthplace of Zen Buddhism and Shaolin Kung Fu at the renowned Shaolin Temple. Enjoy mesmerizing Kung Fu performances, explore the ancient Pagoda Forest, delve into the mysteries of the Bodhidharma Cave, and immerse yourself in the rich history and culture of the esteemed monks.
Songyang Scenic Area: Explore the picturesque Songyang Scenic Area, home to the historic Songyang Academy, one of ancient China's four great academies. Discover the ancient Observatory, one of China's oldest, and marvel at the breathtaking Luya Waterfall, a majestic cascade boasting an impressive height of 314 meters.
Zhongyue Scenic Area: Visit the enchanting Zhongyue Scenic Area and behold the splendor of the Zhongyue Temple, one of China's oldest and largest Taoist temples. Marvel at the unique Taishi Towers, a collection of 14 ancient towers with distinctive shapes and styles, and explore the venerable Huishan Temple, one of China's oldest Buddhist temples.
Hiking and Cable Car Adventure: Embark on an unforgettable hiking journey or take a scenic cable car ride up Mount Songshan, one of China's revered Five Sacred Mountains. Revel in the natural beauty that unfolds before you, with awe-inspiring peaks, verdant forests, captivating rock formations, and mysterious caves. Along the way, visit temples and pavilions that dot the landscape, adding a touch of spirituality to your adventure.
Shaolin Zen Music Ritual: Indulge in the mesmerizing Shaolin Zen Music Ritual, a magnificent live show that seamlessly blends Zen Buddhism, Shaolin Kung Fu, music, and dance. Set against the backdrop of Mount Songshan, this extraordinary evening performance takes place in an open-air theater near the Shaolin Temple, offering a truly captivating experience.
Best Time to Visit Mount Song
For an optimal experience, consider planning your visit to Mount Song during the following periods:
Spring Delights: From March to May, Mount Song comes alive with vibrant colors as nature awakens from its winter slumber. The weather during this time is typically mild and pleasant, providing an ideal setting for exploration amidst the lush greenery.
Autumn Splendor: September to November showcases Mount Song in its full glory, with the landscape adorned in captivating hues of red, orange, and gold. The pleasant weather during this season allows for comfortable outdoor activities and stunning vistas.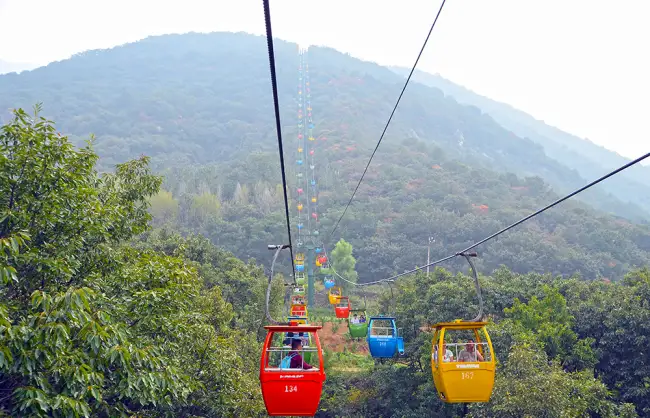 How to Get to Mount Song
By Flight: As there are no airports directly serving Mount Song, your best bet is to fly to either Luoyang Beijiao Airport or Zhengzhou Xinzheng International Airport. Once you arrive, you can conveniently hire a taxi or take a bus to reach Mount Song. Luoyang Airport is approximately 65 km away, while Zhengzhou Airport sits at a distance of approximately 90 km from Mount Song.
By Train: Mount Song does not have a train station in its immediate vicinity. Therefore, a viable route is to take a train to either Luoyang Railway Station, Luoyang Longmen Railway Station, or Zhengzhou Railway Station. From there, you can easily find a taxi or a bus to transport you to Mount Song. Luoyang stations are situated around 60 km away, while Zhengzhou station is approximately 85 km from Mount Song.
By Bus: If you prefer a more direct route, there are convenient bus services available from various nearby cities such as Luoyang, Zhengzhou, and Dengfeng. Buses typically depart from the primary bus stations in each city and conveniently arrive at the Mount Song Bus Station, located near the entrance of the scenic area. This option offers a hassle-free journey, allowing you to easily access the beauty of Mount Song.
Attractions nearby Mount Song
Longmen Grottoes: Located in Luoyang, the Longmen Grottoes are an extraordinary UNESCO World Heritage site renowned for their intricate Buddhist rock carvings. Admire the thousands of statues and reliefs that adorn the caves, showcasing exquisite craftsmanship and religious significance.
White Horse Temple: As one of the oldest Buddhist temples in China, the White Horse Temple holds immense historical and cultural importance. Discover its serene courtyards, beautiful pagodas, and ancient statues while immersing yourself in the tranquil ambiance of this sacred site.
Luoyang Museum: Delve into the rich history of the region at the Luoyang Museum. Explore its extensive collection of artifacts, including ancient pottery, bronze items, and cultural relics, providing valuable insights into the local heritage.