Xi'an Weather in July
What's the Weather in Xi'an in July
July is one of the two hottest months in Xi'an every year. Usually, Xi'an weather in July can be scorching and sultry, with the average humidity of 70%. The average high temperature in Xi'an in July can soar to 34 °C (93.2 °F), and the average low temperature is around 19 °C (66.2 °F). In China, the two-month summer vacation begins in July, when a large number of students travel to Xi'an.
What to Wear in Xi'an in July
Summer clothes, such as short sleeves, vests, skirts, sandals are suitable clothes to wear in Xi'an in July. Occasional rain can make Xi'an climate in July cool or even a bit cold, so you are advised to bring a long sleeve just in case.
Popular Things to Do in Xi'an in July
Recommendation Rate: 2 stars
In view of the muggy Xi'an weather in July, you are recommended to take part in some indoor activities.
Explore the underwater world in Qujiang Polar Ocean Park with your children. It is an indoor park where you will see cute animals from the polar regions such as penguins, Arctic wolves, and a wide variety of marine life including dolphins, jellyfish, sea lions, seals, and sharks.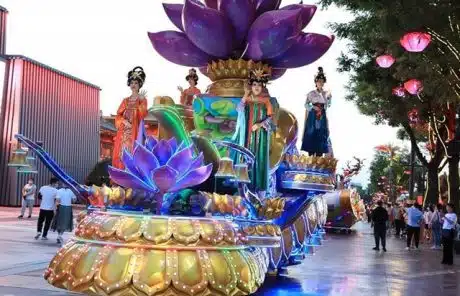 Have a night visit to Great Tang All Day Mall. It is actually a pedestrian street where all the tree trunks are adorned with colorful light bulbs and LED strips that sparkle at night. Try shouting in front of the fountain, and the height of the fountain will change with the volume of your voice. If lucky enough, you can also encounter the brilliant float parade performance.
Challenge the world's most dangerous mountain – Mt. Huashan at night. Climb the mountain at night so you can reach the top before dawn for the glamorous sunrise.
Tips to Know for Traveling Xi'an in July
Be sure to bring some medicine to prevent heatstroke.
Prepare some necessary equipment when you climb mountains, such as non-slip gloves and disposable raincoats.