9 Photos That Will Inspire You to Explore the Silk Road
The Silk Road played an important role in Chinese history. Anyone who claims to understand Chinese history must know that the Silk Road was also a significant factor behind the flourishing periods of the Han and Tang Dynasties. It covers plenty of historical sites that will give you lots of information about China's history. It also features an excellent collection of natural scenery such as grassland, desert, snow mountain, and Danxia landform. Every moment on the way is worth a click. Here are 9 gorgeous photos taken on the Silk Road which will inspire you to visit this wonderful part of China.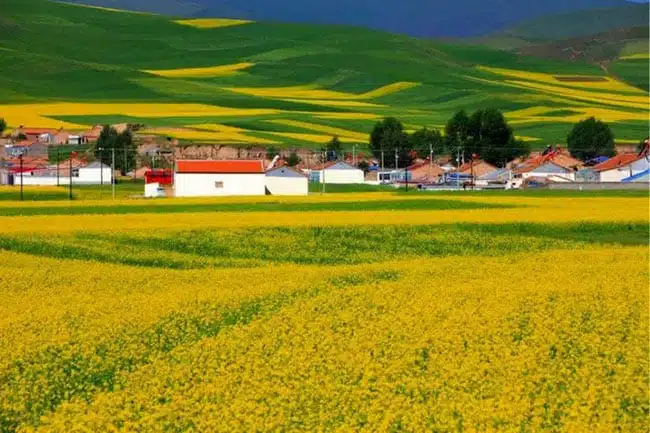 Dunhuang Mogao Grottoes
Mogao Grottoes is praised as a treasure house of Buddhist art. It houses over 2,000 stunning colored sculptures and 45,000 square meters of exquisite murals. You will definitely marvel at the superb craftsmanship and be moved to tears after hearing what happened in Dunhuang.
Echoing-sand Mountain and Crescent Spring
Echoing-sand Mountain and Crescent Spring are called "twin sisters in the Gobi desert". The beauty of the twin sisters lies in the fact that Crescent Spring is surrounded by Echoing-sand Mountain and hasn't dried up for thousands of years. What a wonder!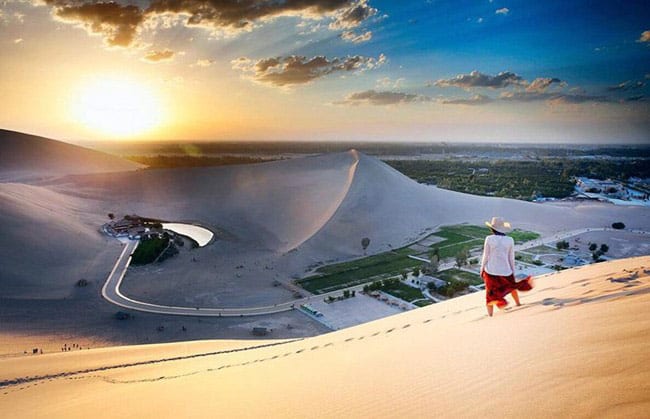 Jiayuguan Pass
With snow-capped Qilian Mountains in the south and rolling Heishan Mountain in the north, Jiayuguan Pass looks like a loyal and brave soldier guarding the ancient Silk Road. May to October is the best time to visit Jiayuguan Pass. Come and feel the solemn and soul-stirring beauty of northwest China.
Zhangye Danxia Landform
Zhangye is well known for the unique Danxia landform which was formed from the erosion of red sandstone. It's hard to believe such a place really exists. Zhangye Danxia National Geological Park sprawls over 536 square kilometers. If you have enough time, you can manage to be there at sunrise and sunset for the best views and have the dreamy scenery all to yourself.
Chaka Salt Lake
Chaka Salt Lake has a very beautiful nickname "Mirror of the Sky in China". The breathtaking lake came into being during the formation of Qinghai-Tibet Plateau. Salt mining here can date back to more than 3,000 years ago. You can take a small sightseeing train to enjoy the lake from different angles.
The above attractions are only a few examples of many fantastic sites along the Silk Road. Because seeing different scenery is only a part of a trip and you can do lots of things, we'd also like to talk about interesting activities you can participate in.
Wear Traditional Clothes of Different Ethnic Groups
You may not know that there are 56 ethnic groups in China. They live all over the country, some living in compact communities while some in areas of mixed habitation. Each has its own customs. And the easiest way to recognize the ethnic groups is to look at what they wear. Here is a challenge for you. Can you try to guess the two ethnic groups the two pictures below represent?
Surely it's difficult for you. The people in the first picture have traditional Tibetan clothes. Touring an area in local traditional clothes really can help you understand the culture and build a special bond with the place. You can try on Tibetan clothes in Tibetan areas and taste homemade dishes like zanba, roasted qingke barley flour. The second picture from a famous Chinese documentary National Treasure shows traditional Han Chinese clothes. Han Chinese account for more than 90 percent of China's population. Xian, as the starting point of the Silk Road and one of China's ancient capitals, has seen a trend of wearing Han Chinese clothes in recent years. Many young Chinese people can be seen wearing traditional clothes in parks and museums. If you visit Xian in the future, you can put this on your list.
Cycling Around Qinghai Lake
Qinghai Lake with an average temperature of 15℃ is an ideal summer resort. The huge expanse of rape flowers contrasts pleasantly with the crystal blue water like a beautiful piece of an oil painting. Cycling is a great way to explore Qinghai Lake. If you are cycling lovers, don't miss this.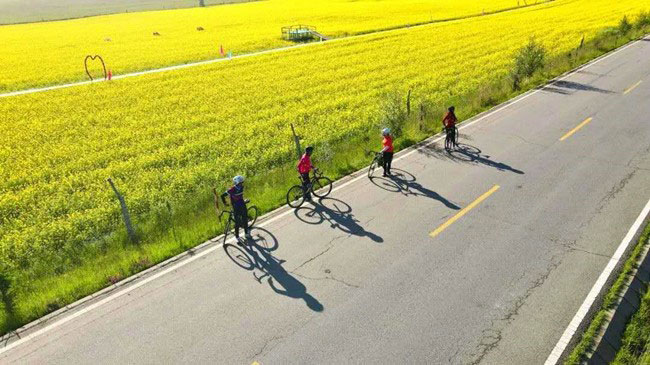 So, are you curious about the Silk Road now? If your answer is yes, that means I have convinced you to visit it. We really hope you enjoy reading our content as much as we share them with you!