Top Attractions along the Silk Road
Spreading more than 4000km, the Silk Road boasts various land-forms. It will offer you a unparalleled trip that is 10 times the value of some common tours. The time from May to October is perfect time when the temperatures hover around 20 – 30 degree. And this cool and bright weather makes for comfortable experience.
You will encounter countless surprises, no matter your style. The vast starry sky, stunning sunset, barren Gobi desert, fiery-red Danxia Land-formation, crystal-blue lake, vivid Buddha status … many hidden gems along Silk Road is waiting for your discovery!

1. Zhangye Danxia National Geological Park
Location: Zhangye, in Gansu
Highlighting its colorful and magnificent rock formations, Zhangye Danxia National Geological Park is listed as one of the 'Top 10 Geographical Wonders of the World' by National Geographic.
Its highlight is the rainbow mountains which are masterpieces of nature with layered undulating ridges and colorful mountain folds. The formation of this geological structure is due to deposits of sandstone and other minerals, together with the movement of tectonic plates.
The sightseeing of sunrise or sunset from the viewing platform is so breathtaking to inspire photographers around the world.
2. Jiayuguan Pass
Location: Jiayuguan city in Gansu province
Jiayuguan Pass, former frontier fortress and western end of Ming Dynasty Great Wall, now a landmark in Gansu and named as "the Greatest Pass under Heaven". Different from the Great Wall sections near Beijing, Jiayuguan was built with loess and surrounded by the Gobi Desert.
The most important fortress on the Silk Road, Jiayuguan was not only a monumental military defense but also an important commercial and cultural center which has stand for hundreds of years.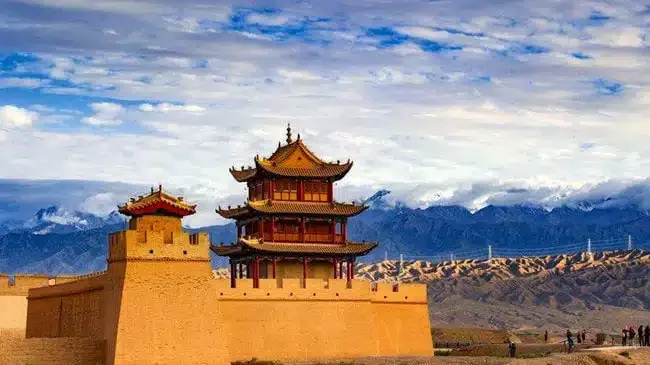 3. Mogao Grottoes
 Location: Dunhuang
The Mogao Caves in Dunhuang is more than 1650 years old and is composed of hundreds of caves that full of Buddha statues and wall paintings, hence its name Caves of the Thousand Buddhas. It is one of the largest as well as most diverse treasure house of Buddhist art. Being listed as a an UNESCO World Heritage in 1987, its vivid Buddha statues and wall paintings offers the finest examples of Buddhist art that will easily bring you back to the glorious Tang Dynasty.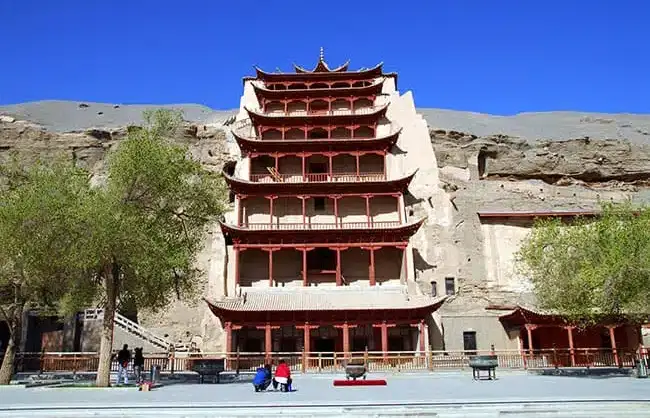 4. Crescent Spring and Echo Sand Mountain
 Location: Dunhuang
Echoing-sand mountain and crescent lake is an incredible view where the golden dunes and green oases coexist in harmony. Camel watching, hiking, camping, sand skating are just a few of its highlights.
Echo Sand Mountain (Mingsha Mountain) is a lonely sand mountain in the open desert. The sand will echo when there is strong wind, hence its name. Next to the sand dunes, the Crescent Spring is the only oasis which adds much vitality and energy to the barren desert. While you are climbing up the Mingsha Mountain, you can observe the Crescent Spring from time to time to admire its changing beauty. You can get the most breathtaking view of the Echo Sand Mountain at sunrise and sunset.
5. Qinghai Lake
 Location: Qinghai
Qinghai Lake, literally means "Blue Lake" in Tibetan, is the largest inland saltwater lake in China. It is one of the most beautiful lake in China with tremendous wildlife species and diverse landscapes packed around its huge water body. If you want to seek tranquil natural scenery, sparse tourists, Tibetan culture, and adventurous activities, it should be a wonderful destination.
The best season for Qinghai Lake is from May to October when the lake is decorated with prayer flags and rape flowers. And you are likely to encounter thousands of migratory birds including swans, wild gulls, wild ducks,bar-headed geese, etc.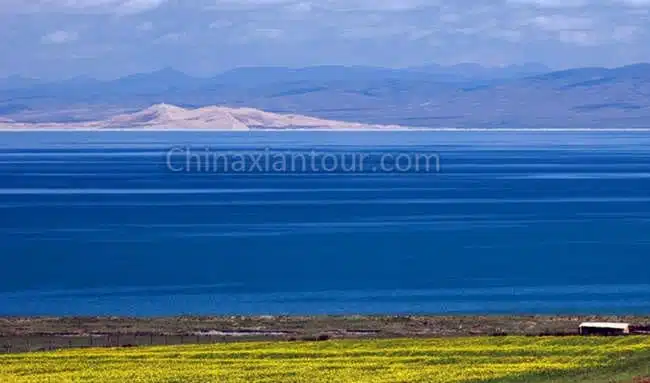 6. Chaka Salt Lake
 Location: Qinghai
Covering an area of 105 square kilometers, Chaka Salt Lake is one of the most popular destinations as well as an important salt mine in Qinghai. It is famous for its crystal-blue water, serene water reflections, hence its name "Mirror of the Sky".
For those shutterbugs, it is a can't-miss for some stunning pictures.
7. Mati Temple
 Location: Yugu Autonomous County in Gansu
Matisi Grottoes is one of the "Three Artistic Grottoes of Hexi Corridor". Standing against the hills where plenty of grottoes were engraved, it will offer you an incredible combination of Buddhist temples and mountain grottoes. Another luminous point of Mati Temple is that it combines both Han Buddhism and Tibetan Buddhism.