The Best Things to Do in Xi'an
There is an abundance of culture to be found in Xi'an, China. Xi'an is the capital of Shaanxi province and the historic site of China's first unification under the Qin dynasty. Here, you can gaze at incredible Terracotta Warriors, visit culturally rich museums, learn historic Chinese calligraphy, eat traditional Shaanxi foods, and bike around the city's amazing ancient walls. Here are some of the best things to do in Xi'an as reference to your Xian tours planning.
Terracotta Warriors
Xi'an's world-renowned collection of Terracotta Warriors is located officially at Emperor Qinshihuang's Mausoleum Site Museum in the city's Lintong district. Built to depict the armies of China's first emperor Qin Shi Huang, the mausoleum houses over 7,000 terracotta generals, soldiers, chariots, horses, and actual bronze weapons.
It contains four visible pits, displaying the detailed statues at various stages of restoration. This, however, is only a small part of the archaeological site — over 600 pits have been discovered, dating back from 246 to 209 BC.
The museum is open daily from 8:30 am to 5 pm. Terracotta Warriors tours are available starting at around 100 USD.
Explore Xi'an Local Food at the Muslim Quarter
The main street of Xi'an's Muslim Quarter, or Huimin Jie, is located in the city's Chang'an district. Dating back to the Western Han Dynasty (206 BC – 9 AD), the Muslim Quarter is Xi'an's traditional home of the Muslim Hui people.
Huimin Jie is a long street consisting of food stalls and vendors selling traditional Muslim foods including cakes, breads, barbecued meats, and candy. Try roujiamo (beef buns) or some yangrou paomo (flatbread lamb soup) for truly authentic examples of Xi'an's Hui cuisine. For those planning ahead, there are Xi'an food tours available starting from 40 USD.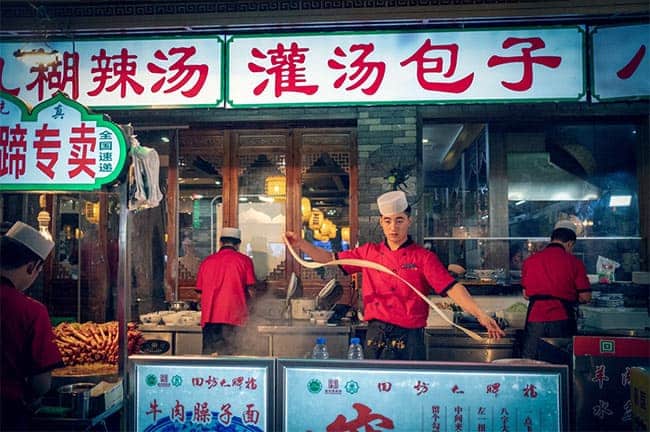 Cycling on the Ancient City Wall
Xi'an's Ancient City Wall was built early in China's Ming Dynasty, from 1370 to 1378 AD. Zhu Yuan-zhang, the dynasty's first emperor, built the wall as a defensive outpost for Xi'an. Now, the Ancient City Wall is one of the largest and oldest Chinese city walls, and is very well-preserved.
You could always walk along the wall, but bicycle rentals are available starting at a 100 CNY deposit, with single bikes at 45 CNY for three hours, and tandem bikes at 90 CNY for three hours (prices may vary). At a moderate pace, you can round the wall in about 1.5 to 2 hours.
I am sure you will love it. Whether Xian private tours or group tours, do remember to add it on your list.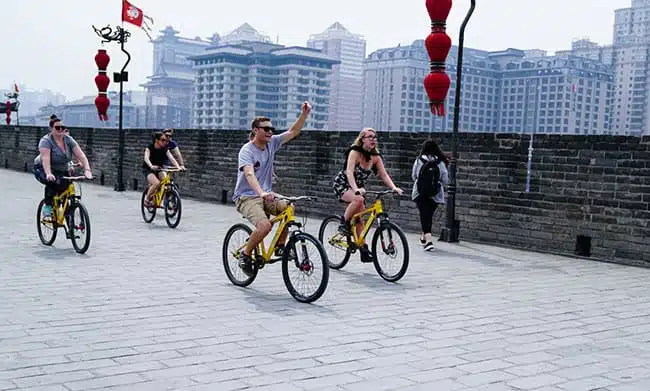 Nightlife: North & South Square of Big Wild Goose Pagoda, Yongxingfang Food Street, Tang Dynasty Show
The Big Wild Goose Pagoda (or Dayanta) is a seven-story pagoda located in Xi'an's southern Yanta district. The pagoda was originally built during the Tang dynasty in 652 AD as a Buddhist shrine. It is now home to some of the best Xi'an night life.
The North Square of the Pagoda is home to Asia's largest musical fountain, with an area of over 17,000 square yards. Free shows are available to watch at 12 pm and 9 pm for most Monday, Wednesday, Thursday, and Friday nights from June to early October, and a 9 pm-only show on Tuesdays. From February to early June (and in late October), the shows are 12 pm and 8:30 pm for Monday, Wednesday, Thursday, and Friday nights. with an 8:30 pm-only show on Tuesdays.
The South Square of the Pagoda features a statue of Master Xuanzang, the Tang-era Chinese Buddhist monk who traveled to Buddhist temples in what is now modern-day Pakistan, India, Nepal, and Bangladesh. At night, the statue, Pagoda, and the South Square light up to make a beautiful and relaxing setting.
At night, the gates and lanterns at Yongxingfang Food Street light up as well. Home to a prepared-food market specializing in traditional Shaanxi cuisine, be sure to try some steamed rice noodles, meat buns, pork soups, and vegetable dishes.
The Tang Dynasty Show is a dinner theater venue that located on Xi'an's North Chang'an Road. It features a show based on Tang Dynasty-era culture and arts. Show-only and dinner packages are available, starting at 45 USD.
Traditional Chinese Calligraphy Class at the Tangbo Art Museum
The Tangbo Art Museum in Xi'an is located at 26 S. Gong Road. It features Shaanxi provincial folk and contemporary art. The museum also teaches Chinese calligraphy in classes that are about 1.5 hours long. Here you can learn about Chinese art history, and the development of Chinese characters from ancient times to today.
With an ink-stone, brush, rice paper, and ink (the "Four Treasures of the Study"), you will learn the techniques of brush and ink painting. Finally, you learn the cultural significance of character formation, as well as their classifications. Classes for adults start at 12 USD.
Visit Museums in Xi'an (Shaanxi History Museum, Hangyangling Museum, Xi'an Museum)
The Shaanxi History Museum is located in the Yanta District of Xi'an. It features over 370,000 artifacts and items including coins, pottery, paintings, murals, and tomb figures from the Tang, Shang, Qin, and Han Dynasties. Be sure to see the Empress' Seal, the jade seal of Han Empress Lyu Zhi, an artifact at least 2,200 years old. The museum is open from 8 am to 6 pm and is closed on Mondays.
The Hangyangling Museum, or the Yang Mausoleum of Han, is in the Weichang district of Xianyang, about 12 miles north of Xi'an. Its two main burial mounds contain Emperor Jing, the sixth ruler of the Western Han Dynasty, and his wife Empress Wang. There are 21 pits accessible to the public with over 50,000 terracotta figures depicting royal life at the time. The park is open every day from 9 am to 5 pm, with the last entrance at 4:30 pm.
The Xi'an Museum is in the southwest part of the Small Wild Goose Pagoda (different from Dayanta) located in Xi'an's Beilin district. It features a wide array of artifacts from Xi'an's early dynastic, Han, and Buddhist periods. Of note are the Tang-era Bodhisattva statues made of stone, copper, and bronze. The museum is open from 9 am to 5 pm and is closed Tuesdays.