When it comes to family vacations, China offers an array of remarkable destinations that cater to all ages. From the bustling historical sites to the serene natural landscapes, there's something for everyone in the family to enjoy. In this guide, we'll take you on a journey through 8 of the best family destinations in China that promise an unforgettable experience for both young and old alike.
1. Beijing: Where Tradition Meets Modernity
Beijing stands as the heart of China's rich history and contemporary culture. Begin your family adventure by visiting the iconic Great Wall of China, a marvel that resonates through time. Delve into the grandeur of the Forbidden City, once home to emperors, and let your imagination run wild. Don't miss the interactive exhibits at the China Science and Technology Museum that captivate young minds while offering a glimpse into the nation's scientific progress. The Beijing Zoo and the Beijing Aquarium offer interactive encounters with pandas and marine life, delighting both young and old.
Recommended Tour: 5 Days Beijing Family Tour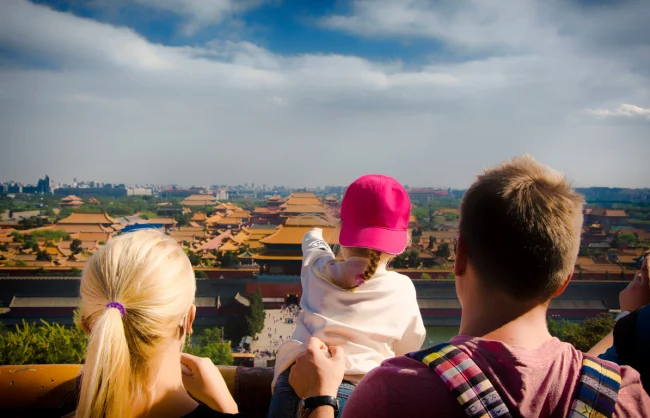 2. Chengdu: A Paradise for Nature and Wildlife Enthusiasts
For families seeking a unique blend of culture and nature, Chengdu is an ideal destination. The Chengdu Research Base of Giant Panda Breeding is a must-visit, where you can observe these adorable creatures in a semi-natural habitat. Enjoy an evening of traditional Sichuan opera with face-changing performances, fire-breathing, and puppetry at the Shu Feng Ya Yun Sichuan Opera House, a mesmerizing experience for all ages. And, of course, learn to cook Sichuan cuisine as a family at the Sichuan Cuisine Museum, adding a flavorful touch to your vacation.
Recommended Tour: 3 Days Chengdu Family Tour with Panda Volunteering & Cooking Class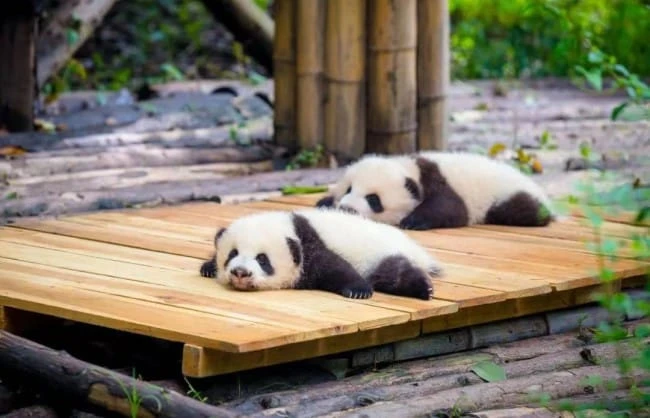 3. Sanya: Tropical Getaway for Sun and Sand
Sanya, situated on Hainan Island, beckons families with its stunning beaches and tropical charm. Bask in the sun at Yalong Bay, known for its clear waters and recreational activities. The Sanya Romance Park offers a mix of cultural shows and thrilling rides, ensuring non-stop entertainment. Explore the underwater world at the Atlantis Sanya resort, where the Lost Chambers Aquarium brings the ocean's mysteries to life.
Recommended Tour: Sanya Beach Holiday: 6 Days Surf Class Coffee Factory Tour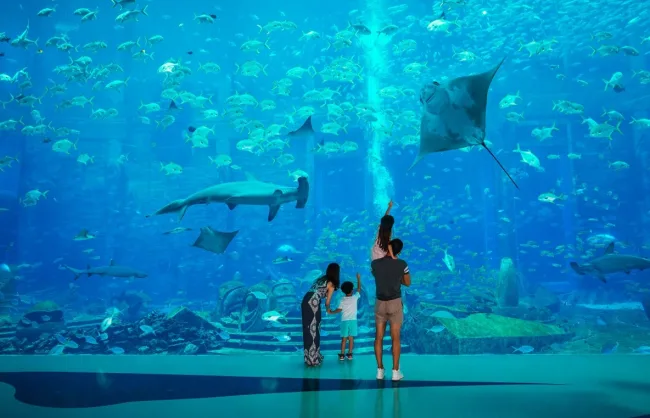 4. Dengfeng: Unveiling Martial Arts Heritage
Immerse your family in China's martial arts heritage by visiting Dengfeng. The Shaolin Temple is an iconic site where you can witness captivating kung fu performances and even participate in basic training sessions. Explore ancient pagodas and sculptures at Songyang Academy, encouraging kids to learn about China's past in an engaging way. Also, stroll through the scenic Mount Song area, perfect for hiking enthusiasts.
Recommended Tour: 2 Days Luoyang Highlights Tour with Shaolin Temple & Longmen Grottoes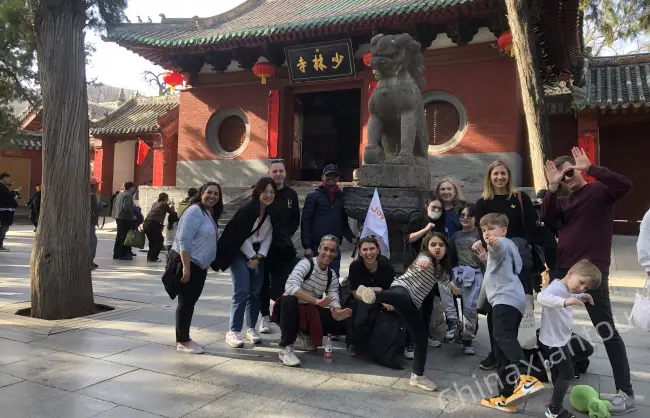 5. Xi'an: Timeless Treasures and Terracotta Wonders
Xi'an welcomes families with its historical treasures and archaeological wonders. The world-renowned Terracotta Army is a testament to China's ancient civilization and craftsmanship. Your child can even DIY a mini terracotta warrior. Cycle along the Ancient City Wall for a unique perspective of the city, or explore the immersive exhibits at the Huaqing Palace to learn about the romantic tales that unfolded within.
Recommended Tour: 3 Days Xi'an Private Trip: History Exploration & Tang Costume Experience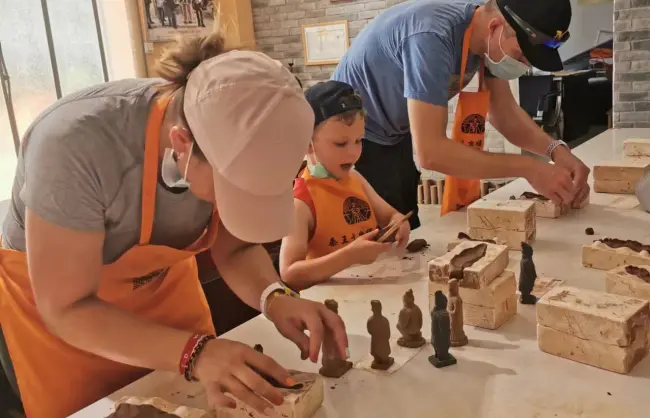 6. Guilin: A Picturesque Haven of Karst Landscapes
For families seeking natural beauty, the mesmerizing karst landscapes in Guilin will leave a lasting impression. Take a leisurely cruise along the Li River, surrounded by towering limestone peaks and lush greenery. The Reed Flute Cave captivates with its illuminated rock formations, while a visit to Seven Star Park promises encounters with pandas and picturesque scenery. Your kids have a wonderful opportunity to explore local minority villages, trek across the rice terraces, and gain insights into Chinese agricultural practices. Enjoy countryside cycling and partake in bamboo rafting along the Yulong River in Yangshuo Town. Join some Culture Exchange Programs, such as Chinese painting & calligraphy classes and Chinese landscape painting with pebbles.
Recommended Tour: 5 Days Guilin, Yangshuo & Terrace Field Photography Tour
7. Guangzhou: Fusion of Modernity and Tradition
Guangzhou seamlessly blends modern skyscrapers with historical gems, making it an engaging destination for families. Delight in the rides and attractions at Chimelong Paradise, an expansive amusement park that guarantees a day of thrills. Explore the cultural enclave of Shamian Island, where colonial-era buildings house cafes and boutiques, offering a tranquil escape from the bustling city. Take a family boat ride along the Pearl River, admiring Guangzhou's stunning skyline illuminated at night. Don't miss a Cantonese food discovery tour.
Recommended Tour: 4 Days Family-Friendly Guangzhou Chimelong Safari Park Tour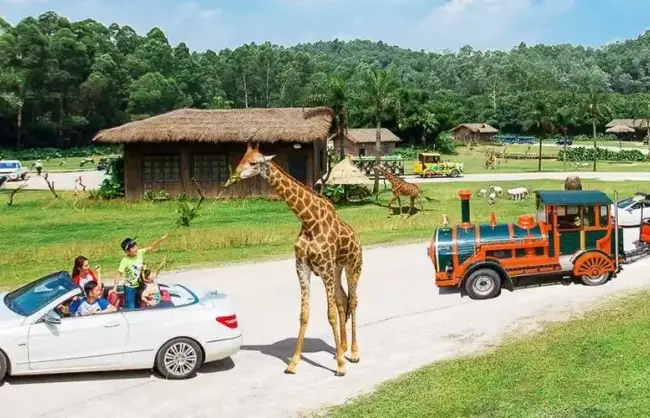 8. Zhongwei (Ningxia): Desert Adventures and Cultural Immersion
Venture into the deserts of Zhongwei in the Ningxia region for a unique family experience. Glide down the towering sand dunes at Tengger Desert on sand sleds or embark on a camel ride for an authentic desert adventure. The Shapotou Scenic Area offers a blend of desert and oasis, with activities like dune surfing and cable car rides.
Recommended Tour: 3 Days Ningxia Desert Tour with Winery Experience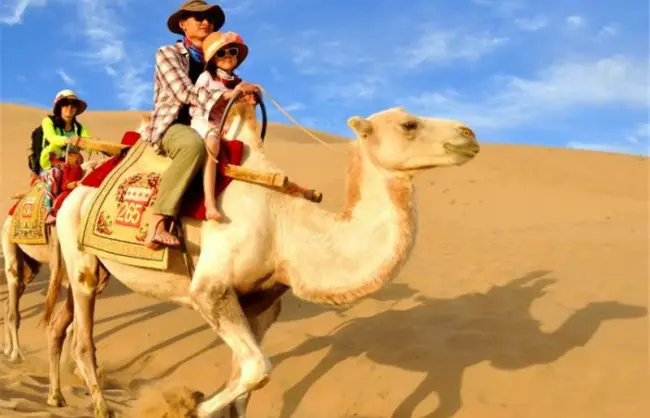 From the historical wonders of Beijing to the tropical allure of Sanya, and the captivating landscapes of Guilin to the martial arts heritage of Dengfeng, China boasts a diverse range of family-friendly destinations. Each locale weaves a tapestry of experiences, offering something special for every member of your family. Whether you're immersing in the culture, exploring nature, or indulging in modern entertainment, these 8 destinations stand as testaments to China's rich tapestry of tradition, innovation, and adventure. So, pack your bags, gather your loved ones, and embark on an unforgettable journey through China's most captivating family destinations.